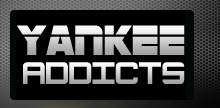 June 19, 2009 · Heartbeat Of The Bronx · Jump to comments
Article Source: Bleacher Report - New York Yankees
The Yankees' "hot corner" has begun to freeze up like a cameraman at the sight of former Tigers pitcher Kenny Rogers.
A lengthy win streak once accredited to Rodriguez's triumphant and energizing comeback has long since departed, and the Yankees are left wondering what to expect from the wealthiest slugger in baseball.
New York is just 6-8 in its last 14 games, which includes a recent three-game humiliation at the hands of the Washington Nationals—the worst team in Major League Baseball.
Rodriguez has become worse than a one-dimensional "all-or-nothing" slugger—destined to either strike out blindly or launch a pitch into the stands. He is essentially providing an "almost-nothing-or-nothing" dynamic to the center of the Yankees' struggling lineup.
The numbers displaying A-Rod's ineptitude are endless and staggering, and will be condensed in the interest of time. The Yankee slugger is 0-for-14 in his last four games and just 3-for-34 (.088) in his last 10.
On a broader scale, Rodriguez is hitting just .145 in the entire month of June and is sporting an anemic .309 OBP during this time period. He has had just two multi-hit games since his return on May 8, and neither of those has occurred since May 25.
There has been a disconcerting power outage as well, as A-Rod has produced just two home runs in his last 23 games—a pace that would generate just 14 home runs over a 162-game season.
The Yankees and their frustrated fans were not naïve enough to expect the 2007 MVP version of their third baseman—but no one could have expected results this poor.
He looks completely lost and off-balance at the plate—uncomfortable in a batter's box he once made his own personal sanctuary.
Unfortunately, even Kate Hudson has been unable to relax Rodriguez. Subsequently, he has been greeted with a chorus of boos as loud and persistent as any slump in years past.
Coaching staffs and pitchers have targeted A-Rod's unquestionable weakness and have consistently abused it. His hip surgery appears to have vastly limited his ability to rotate and drive the inside pitch—which has resulted in countless two-seam fastballs riding in on his hands.
Furthermore, he seems unable to lift the ball with authority to right field—once his trademark at the Major League level. Balls that once landed in the 15th row are now barely hitting the top of the wall—even while aided by closer fencing alignments, shorter walls, and possible wind assistance.
If he cheats on the inside pitch by opening up slightly early, pitchers are throwing sliders or four-seamers on the outside part of the plate—confident that a single likely represents the worst outcome.
The issue is not the length or timing of the slump. It is the concern that the underlying catalyst of A-Rod's failures will persist through season's end.
Unless continuous rehabilitation advances his flexibility, there will remain a rather simple formula to retiring him at the plate.
Mark Teixeira's hot streak is beginning to tail off, and the Yankees desperately need Rodriguez to snap out of his slump in order to sustain success. If nothing else, they need him to become enough of a threat to adequately protect Teixeira hitting in front of him.
If A-Rod continues to creep closer and closer to the "Mendoza Line," pitchers will not even take the chance of challenging Teixeira with a base open. This will pass the baton to a man seemingly unable to deliver a knockout punch.
The Yankees and hitting coach Kevin Long need to find a way to reset A-Rod's circuit breaker, because a continued power outage at third base could lead to the lights being turned off in Yankee Stadium before the postseason.
Also seen at: Heartbeat of the Bronx