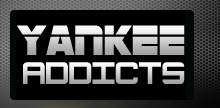 April 19, 2009 · Josh Illes · Jump to comments
Article Source: Bleacher Report - New York Yankees
Today's POTD is all about the new Yankee Stadium, or as some have referred to it, Coors Field East. The first series played there, Yankees vs. Indians, saw a total of 58 runs scored in four games, including 20 home runs (19 if you think, like I do, that Posada's shouldn't have counted). While it is too early too tell if this trend will continue, it is never too early to break down the potential ramifications of this from a fantasy perspective. Here are a few "facts" that fantasy managers are going to take from this series:
-The Yankees now play in a true hitter's park
-Chien-Ming Wang is droppable in most leagues
-All Yankees hitters deserve an upgrade
-All Yankee pitchers deserve a downgrade
-The Indians have a devastating lineup
-CC Sabathia would be the No. 1 overall pick if "number of pinstripes" was a category
Now, let's deal with these "facts." Is Yankee Stadium a hitter's paradise? It sure seems that way, but it wasn't built with that intention, and there's only been one series. We will have to reserve judgment on that for now, meaning that we don't yet know if we should upgrade Yankee hitters or downgrade Yankees pitchers at this point. We also don't yet know if Wang is droppable. What we do know is that he is being dropped. His ownership is down to 53 percent in Y! leagues. Considering he has a 34.50 ERA, I can certainly see why that would be the case…I just don't know if I agree with it. As far as the Indians' lineup, I don't think "devastating" is really appropriate. After all, how many more grand slams should we expect from Asdrubal Cabrera? If the over/under is zero, I'm still taking the under. I'm a big Shin-Soo Choo fan, though. I say go get him if you can, he will have a monster year. Now, as far as Sabathia's pinstripes, I think the unconfirmed reports have it at 62. So, yeah, the most in the history of the Bombers.
So, who is the POTD?…
Of course, it is the aforementioned Chien-Ming Wang.
Surprised? Well, you shouldn't be. There would be no point in me telling you to go pick up someone like Jorge Posada or Robinson Cano, obviously. If I were going to pick a Yankee slugger, I probably would have gone with Nick Swisher because of the Xavier Nady injury. But, A.) Swisher has probably already been picked up in your league, and B.) I still don't really believe that he will be worth it, considering his batting average shortcomings.
Instead, I will propose this theory: Yankee stadium is not going to play as a hitter's park, at least, not as much anyway. It was supposed to be pretty neutral, and I think over the course of the year, it will even out. That being said, Wang has looked absolutely awful, hitter's park or no hitter's park. But Yankee manager Joe Girardi and pitching coach Dave Eiland are adamant that there is nothing physically wrong with Wang. He could be suffering from Mark Wohlers-itis, or even Rich Hill-itis, in which case there is no hope for him. But, the more likely scenario is that he is just regaining his form from the Lisfranc injury he suffered last year. Because he is a sinkerballer, his delivery is that much more critical to his success. Once he regains that form, he will be fine. He still won't give you any strikeouts, but the W's, ERAs, and WHIP will all be there.
I say, if someone in your league has dropped him, there is absolutely no reason why you shouldn't take a flier on Wang. It's like playing with house money. I wouldn't necessarily start him until he shows some progress, but stash him at the end of your bench until his slump is over.
Couple more quick picks:
NL only pickup of the day: Franklin Morales
AL only pickup of the day: Derek Holland
Both are up with the big league club, Morales is already in the rotation, Holland will be soon.