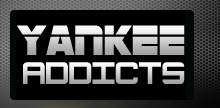 May 24, 2009 · Flattish Poe · Jump to comments
Article Source: Bleacher Report - New York Yankees
Can you hear that?
They're talkin' 'bout us.
If the 2-1 series win is any indication of the prediction Jimmy Rollins made (Phils vs. NYY in the World Series), this could be another banner year.
One thing I love about the Bleacher Report is my strong feelings for Carlos Ruiz are well documented. I like being right as much as I like winning. And today I won a double-header.
That brings us to my tribute.
Ode to Carlos
The guy behind home plate
Hails from another place
Van Halen praised it in a song
Our hero's home's in Panama
How many clichés can we create?
The kid from Panama caused some Panam-onium.
Carlos KO'ed the Bronx bombers and gave the City of Brotherly Love a Rocky moment.
Carlos hurt the Yankee hurlers and sent them for their barf bags.
I'm on a roll—and so was he.
Defensively, he foiled two steals, sold a bad call to the umpire to send Derek Jeter to the dugout with a K and an attitude, then tagged Johnny Damon out at home—again. I'm sure Chooch's face is portrayed on Johnny's bulls eye after denying him a run for the second time.
Offensively, Chooch had the first base hit of the day—and the first walk—and added another single and a double to go 3-for-5. This included the hit that drove in the game winning RBI.
The $400,000 man took on the $207 million dollar team—and won.
The Yanks are saying, "Who was that masked man?"
Carlos was sub-200 only a few weeks ago. He's raised his average over 100 points in that time. Jimmy Rollins did almost the same.
But since Jimmy got it going, the Phils have more hits and runs than any team in baseball. Having that impact on a team can be one hell of a cross to bear, but it can also be a torch. It's all in your perception. Whatever Jimmy's carrying now, he has it lit.
Let's gaze at the rest of the stars.
They said Raul was the first lefty to get a hit off CC Sabathia for the first time in 37 games. If that's true, it simply adds another stat to an amazing season so far. I'd be way over on my word count if I even tried to go into how much Phillie fans ooooo Raul.
Let's not diminish what Cole Hamels accomplished. Even though foul balls ate up his pitch count and held him to six innings, he had five Ks, no walks, and only two earned runs.
And let's not let overlook the effort of Chad Durbin.
Or Scott Eyre.
Or Ryan Madson.
Or Clay Condrey.
My son thinks there are scary monsters in his closet but he wasn't around today to see the ones in the Yankee's lineup. They make Monsters Inc. look like American Girls.
But Brad Lidge failed to close the deal—again.
Yesterday Melky Cabrera knocked the win right out of Brad's sails, but today Lidge only cried over a spilt save. That's a step in the right direction.
But the big thing to understand about Brad's plight in Game Three is, he faced the last five guys in their lineup. Now, if you're facing the bottom five of the Phil's, that's a negligible statement, but with NYY it's something to consider.
So the Phillies won a nail-biter 4-3 in 11 innings, and Carlos Ruiz had the WB Mason Deliveries of the Game with his Damon denial and two foiled steals, and also won Player of the Game for being just plain awesome.
That'll get him in the calendar.
His performance even overshadowed the fact that the 2008 World Champs foiled another win by CC Sabathia. After a slow start, the Phil's managed three runs off nine hits along with three stolen bases.
If CC has a target, the whole team's the bulls eye. But his arch enemy is the unimposing guy with the tiny letters on his chest: Ruiz.
That's so cool.
Now the Phils come home for a three-game series with the Marlins.
Let's go fishing.
See you at the ballpark.