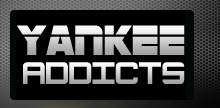 February 13, 2010 · Andrew Garrigan · Jump to comments
Article Source: Bleacher Report - New York Yankees
With the New York Yankees making the move to (re)acquire Javier Vasquez they now have a solid four-man rotation in C.C. Sabathia, A.J. Burnett, Andy Pettitte, and Vasquez. Wang won't be returning—which is a shame because he did have a budding career, but the injury-bug plagued and staked its claim in his system.
The Yankees were able to make their way through the playoffs with the three-man weave, but if another series were to come up, they may have been toast.
With the acquisition of a very solid Vasquez, who can win 14 or 15 games and carry around a 3.90 or 4.00 ERA, the Yankees should look for a very solid season.
Who can fill the void in the fifth starter spot remains to be seen. At one point in recent history, it was a debate between Ian Kennedy, Kei Igawa, and Phil Hughes. It has since come down to Phil Hughes and Joba Chamberlain. It shouldn't be a debate at all.
The fifth starter in the rotation should be…
Joba Chamberlain.
It really is a no-brainer. The first thing is for the Yankees to rid themselves of the Joba rules and let him pitch. Last year, Joba was able to make it into the fifth inning generally posting an ERA in the area of 4.00. With Chamberlain as fourth in the rotation last year and the Joba Rules in effect, it was difficult for him to put up wins and pitch consistently.
With the Yankees signing a No. 4 starter, Chamberlain can essentially be "hidden" in the rotation as the No. 5, with no pressure to win—well, as little as pressure as the NY media will allow—and he can log some innings as a starter and even spot start on an as-needed basis.
With Sabathia and Burnett now settled into the team with staked claims in the locker room, Joba can learn the game and how to manipulate pitches and the strike zone, especially from the crafty lefty Andy Pettitte.
Phil Hughes
Watching last year's playoff run with Phil Hughes setting up Mariano Rivera was giving me flash backs to 1996 when Rivera was John Wetteland's apprentice in the bullpen. Rivera was a starter-turned-relief man who turned into the greatest closer the game has, and will ever, see, and did it, essentially, with one pitch.
The knowledge Hughes gained during the second half of last year, and the knowledge he can gain this year, could mean a seamless transition from Rivera to Hughes and not create a hole in the bullpen in its most vital position. The Yankees won't have to spend top-dollar in the free agent market if Hughes can go on to have a solid, if not Hall of Fame worthy, career as Sandman Jr.
Of course, Boss Jr. could open his wallet and decide to go into free agency for a closer, making both Hughes and Chamberlain starters after Pettitte likely retires at the end of this year. There is a pretty good closer who only got a one year deal from a team out there, and Boss Jr. loves to pick up players who have had a good track record against the Yankees.
There is one kicker that fans would have to get over.
It's Jonathan Papelbon.
Read more New York Yankees news on BleacherReport.com