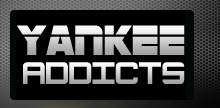 March 17, 2010 · Greg Fertel · Jump to comments
Article Source: Bleacher Report - New York Yankees
The primary line of thought is that the Yankees pitcher that loses the fifth starter battle will be used as the primary eighth inning pitcher.
This is likely to be the case, but is that the right decision? Could Joba Chamberlain or Phil Hughes use more development against Triple-A hitters?
With Hughes, I think the answer is an obvious no. He has a ton of minor league experience and has already dominated the Triple-A level. I don't think Hughes has anything to learn in the minors.
With Chamberlain, on the other hand, I'm not so sure. He had a very brief minor league career, racking up fewer than 90 innings in the minors over the course of his career and only throwing eight innings at Triple-A.
Also, Chamberlain is not the same pitcher that he once was. His velocity as a starter now pales in comparison to what it was when he was starting in the minors. This could give him the chance to learn how to pitch without his best stuff and also give him a better opportunity to work on his changeup and curveball.
The question then becomes, if Hughes is anointed the fifth starter, would it be worth it for the Yankees to send Chamberlain down to work on his pitches and become a more efficient starter? This way, he'd also be immediately available to step in if one of the Yankees' top five starters went down with an injury.
First, it would be important to see how taking Chamberlain off the team and out of the bullpen would affect the team. Using Sky Kalkman's bullpen chaining spreadsheet with 2010 CHONE projections, it would cost the team eight runs over the course of the season if they were to replace Chamberlain with a replacement level reliever like Albaladejo, who projects for a 4.75 ERA.
Eight runs is nearly one win, and even though that may not sound like too much, it could make all the difference in the toughest division in baseball. In order for it to be worth starting Chamberlain in the minors, the Yankees would have to be sure that it would improve him and the team very soon.
It's definitely an interesting idea and one that the Yankees should look into, but I'm not convinced it would be the right move.
I don't take spring training results very seriously, so I am still standing where I have all along. Entering the season, Joba Chamberlain should be the fifth starter and Phil Hughes should be in the bullpen ready to fill in if or when the Yankees need him.
Find more great content at Pending Pinstripes. This article is somewhat of a response to this post by Jay on Fack Youk.
Read more New York Yankees news on BleacherReport.com