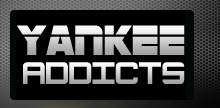 October 9, 2010 · Lucas Weick · Jump to comments
Article Source: Bleacher Report - New York Yankees
Phillip Joseph Hughes, better known simply as Phil Hughes, has had a very tumultuous career thus far and has hurdled many challenges on his way to his postseason starting debut tonight in the Bronx.
In high school, Hughes was a first team All-American pitcher, while posting a combined 21-1 record between his junior and senior years, including a perfect game.
Using their first draft pick in 2004, the Yankees selected Hughes 23rd overall out of Foothill High School in Santa Ana, California.
Coincidentally, New York was awarded the 23rd pick in that draft after losing Andy Pettitte to the Houston Astros, six years later and both pitchers make up two-thirds of the Yankees three man rotation in the playoffs. Personally, I think Houston got hosed on the whole deal.
In 2005, his first full year as a professional, he split the season between Class A Charleston and Advanced A Tampa, posting a 9-2 record with a 1.24 ERA, certainly showing the Yankees that they might have something special there.
In November of 2006, after another strong year in the minors in which he nearly threw two no-hitters, Hughes was ranked as the Yankees No. 1 prospect by Baseball America, calling him "arguably the best pitching prospect in the minors".
Hughes was invited to Major League spring training camp with the Yankees in 2007, and after starting the season in Triple-A Scranton/Wilkes Barre, he was called up to the majors and made his debut on April 26 in a loss to the Toronto Blue Jays.
However, he would bounce back from his first career loss with a strong outing at Texas, where he took a no-hitter into the sixth inning, but was removed after pulling his hamstring with one out and two strikes on future teammate Mark Teixeira.
2007 also marked his first taste of postseason baseball, where he threw 3.2 scoreless innings in an emotional game, relieving Roger Clemens, who walked off a major league mound for the last time in his storied and controversial career.
After Brian Cashman refused to trade him and Joba Chamberlain for Johan Santana in the off-season, injuries plagued Hughes for much of 2008 and he spent most of the year rehabbing in the minors and Arizona Fall league to increase his innings total.
Hughes started a hand-full of games in 2009 before being temporarily moved to the bullpen, where he flourished and remained for the rest of the season, becoming the 8th inning man setting it up for Mariano Rivera.
Despite his struggles in the 2009 postseason, he got his first World Series ring as the Yankees defeated the Philadelphia Phillies in the fall classic.
Heading into 2010 the Yankees needed a fifth starter to slot in behind CC Sabathia, Andy Pettitte, A.J. Burnett, and Javy Vazquez. Hughes and Joba Chamberlain were the two most likely candidates for the job, and whoever pitched the best in spring training would get the job.
Causing much debate amongst Yankees fans as to who should be the fifth starter in the weeks leading up to the season, the competition was rather one sided. It was clear that Hughes had out pitched Joba and was named the starter by Joe Girardi.
After being named to the starting rotation, Hughes never looked back, going 18-8 with a 4.19 ERA and legitimizing his ability to be a starting pitcher in the big leagues.
Along the way, Hughes has benefited from playing alongside some of the best in the pitching business. His cutter has matured to become his most reliable pitch, no doubt a result of a few side sessions with Mariano Rivera in the bullpen during 2009.
His knuckle-curve is also a deadly pitch for opposing batters, certainly something he may have worked on with Mike Mussina early in his career.
Now at age 24 and six years since being drafted, Hughes has become a complete pitcher and is set to make his first career start in the bright lights of the postseason, as the Yankees look to sweep the Minnesota Twins in the Bronx tonight and pack their bags for the ALCS against Texas or Tampa Bay.
Read more New York Yankees news on BleacherReport.com