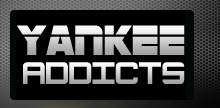 April 24, 2009 · Forrest Kobayashi · Jump to comments
Article Source: Bleacher Report - New York Yankees
With Chien-Ming Wang possibly going to the Disabled List for being terrible, former top prospect Phil Hughes could have an opportunity to be recalled to the big team for next Tuesday's start against Detroit.
Not only that—he has the chance to be a two start pitcher, and if he can keep up the high level of performance from the minors, we could be a looking at an immediate breakout pitcher.
You've probably heard of Phil Hughes before, but what are his strengths and weaknesses?
The first half of last season can surely be written off, as Hughes' stellar pitching abilities showcased themselves in the second half of last year. In 12 innings pitched (admittedly, a small sample size), Hughes posted an ERA of 2.25 and a WHIP of .92.
In addition, his K/BB ratio was 7.5/1.5—if anything, a showcase of just how good he can perform in a few starts.
If Hughes gets starts for the Yankees, expect immediate strikeout numbers. He should be able to strike out seven or eight batters an outing: something that will undoubtedly help you if you are in a 5×5 or any other format that credits strikeouts. The thing you should watch with Hughes (and any other rookie pitcher), is how well he controls the plate.
If he can limit his walks to three or four per nine innings, he could make an immediate impact with the Yankees offense behind him. The wins will come if he can bring the skills.
I have my questions about how many home runs Yankee stadium has given up as of late—and until more research is done on the ballpark itself, we cannot jump to any conclusions about how the ballpark will affect Hughes.
The bottom line is that Hughes is an incredible talent who could be a frontline starter for the Yankees as early as 2010 or 2011. For this year, he is a solid add as an immediate breakout pitcher in any format.
Check out Fantasy Baseball Flash for all your latest fantasy baseball news, analysis, and information. Also, feel free to find and follow me on Twitter: forrestfanatic.