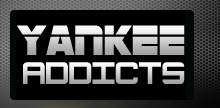 May 2, 2013 · Corey Noles · Jump to comments
Article Source: Bleacher Report - New York Yankees
With New York Yankees shortstop Derek Jeter still nursing his re-fractured ankle, Hall of Fame shortstop Ozzie Smith of the St. Louis Cardinals shared his insight on what it's like to return from injury as an aging player.
Jeter fractured his ankle in Game 1 of the 2012 ALCS against the Detroit Tigers when reaching for a ground ball. Originally hoping to return for Opening Day, the appearance of an additional fracture has delayed that return.
Smith never broke his ankle, but he knows what it's like to be an older player battling through injury.
"I think for anybody we all know it's a lot tougher when you get up in age," Smith said Thursday morning. "You don't heal as well and you don't heal as fast."
Smith, a 14-time Gold Glove shortstop, is well known for his defense. He also understands how even a simple injury can make defending the position quite a chore.
In the middle of 1985, Smith later revealed that he played through a rotator cuff tear after a July incident. Instead of surgery, he used weightlifting to rebuild arm strength.
He played through the rotator cuff injury for the remainder of his 19-year career. In five of the six years immediately following the injury, Smith still played in more than 150 games per season.
Derek Jeter is that kind of player, however, so pushing through isn't an option and the road back won't be an easy one.
"Sure, it's going to be real tough for him to come back and be able to do all of the things that he was able to do," Smith said. "He's been limited to this point and it doesn't get any easier the older you get."
With that said, Smith said he believes if anyone is capable of making the comeback, it's Jeter.
Even for Jeter, though, it will be an uphill battle.
Smith said he admires Jeter's pride and determination in everything he does.
Despite that, "coming back" doesn't necessarily mean that his performance might not show some effects of the injury for quite some time.
"I don't know if it's fair to expect him to come back and do the things he did because every second of every day we're getting older," Smith said. "With age, it gets more and more difficult to come back from shoulder, ankle and wrist injuries."
He added that is especially the case for a strong defensive player like Jeter.
The process is slow and can be excruciatingly difficult, but it comes with the territory.
"It's one of the unfortunate parts of this business," Smith said. "You try to stay away from them, but unfortunately, we get them and all we can do is hope they're not too serious."
Given that he is slated to take to the field in the PepsiMax Field of Dreams game May 18 in Rochester, N.Y., injury is something Smith says he still tries to avoid. Does that mean we won't be seeing any backflips from the Wizard?
"Not intentionally," he said with a big laugh. "It will give fans the chance to see some of us play one more time and watch how we've aged. We do things a little bit slower these days."
The MLB greats taking the field representing the American League include Wade Boggs, Rickey Henderson, Reggie Jackson, Pedro Martinez and Frank Thomas; while the National League team will include Johnny Bench, Trevor Hoffman, Fred McGriff, Mike Schmidt and Ozzie Smith.
Tickets for the Pepsi MAX MLB Field of Dreams Game go on sale Saturday, April 13. For details on how to purchase tickets, visit www.mlb.com/pepsimax. All tickets are general admission.
All quotes were obtained firsthand.
Read more New York Yankees news on BleacherReport.com