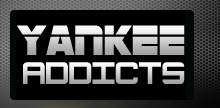 April 22, 2009 · Gary Marchese · Jump to comments
Article Source: Bleacher Report - New York Yankees
The game today is a 1:05pm start. The Yankees are going for a rain shortened, two game sweep of this series. CC Sabathia is on the mound and will be looking to be more economical then he was in his last start.
A 21 year old future star, Brett Anderson, is on the mound for Oakland.
This could be a good matchup as the Yankees tend to struggle with these young pitchers that they have never seen before.
The lineup for todays game is as follows:
Derek Jeter(ss)
Johnny Damon(lf)
Mark Teixera(1b)
Jorge Posada(c)
Robinson Cano(2b)
Nick Swisher(rf)
Hideki Matsui(dh)
Melky Cabrera(cf)
Cody Ransom(3b)
The game is also on WCBS 880 radio in NY for most of us that are working today. Here are a few notes for the game via Peter Abraham of the Yankees' lohud blog and Journal News.
Oakland has gone six games without a homerun and only have three all year, which is lowest in the majors.
Robinson Cano a career 237 hitter in April is at 377 with eight games to go in April this year.
Nick Swisher is three for his last 21.
Mariano Rivera has thrown 12.2 scoreless innings in a row dating back to last year.