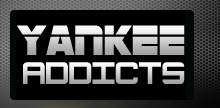 November 18, 2011 · Matt Marianno · Jump to comments
Article Source: Bleacher Report - New York Yankees
When I heard the Houston Astros would be taking their perennial mediocrity show to the American League next season, I felt awkward—kind of like when a grandparent gets re-married. Something just feels unnatural about realignment. However, the second part of Bud Selig's plan more than compensated. Plans were announced to add a second wild card team to the playoffs, hopefully as soon as 2012.
Brilliant idea.
I am completely in favor of the plan and believe it will restore some of the late-season drama that was lost at the introduction of the Wild Card in 1995. The two-wild-card system will also be a shot in the arm to the rivalry between the game's two marquee franchises: the New York Yankees and Boston Red Sox.
Baseball's two biggest rivals—and its two best teams over the last 15 years—play in the same division yet have not had a meaningful pennant race between them since the advent of the eight-team playoff. Since Selig opened Pandora's box by allowing second-place teams into the postseason, co-division leaders across baseball have been content to split the prize, rest their stars and walk hand in hand into the post-season together.
Insert second Wild Card:
Both teams will now have to get off their rump and try to win the division. Otherwise, they will be forced to play a "little sister of the poor" second-place team in a one-game playoff. One-game playoffs are baseball's equivalent of a coin flip. One error, one bad pitcher, one rogue umpire, and it's lights out.
I know non-East Coast fans will cringe, but this rivalry is baseball's moneymaker. Fox and ESPN force us to watch most Yanks-Sox games anyway. Disappointingly, however, the two teams have not played a meaningful game since the 2004 ALCS. September Beckett-Sabathia matchups in the Bronx are sterile, made tedious by the fact that one or both teams have usually already clinched.
Since 2002, the Yankees and Red Sox have entered the playoffs together five times. Each of those years represents a pennant race lost. In the other years, one team rode to an easy division title or wild card while the opposing suffered through a down season.
But no more.
Everybody wins if these five-hour marathon games actually start to mean something. There is no need to cross our fingers for a Yankees-Red Sox playoff series if we can watch them go at it during September with, at worst, a trip to the one-game Wild Card death match on the line.
By adding only two games, MLB's new system allows half of baseball to be competitive into September, keeping stadiums full and fans interested long after many have switched over to football.
The new system also raises the possibility of a dramatic late-season pennant race between baseball's two best franchises, something that was impossible until now.
Read more New York Yankees news on BleacherReport.com