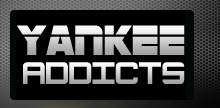 May 27, 2013 · Colin Tansits · Jump to comments
Article Source: Bleacher Report - New York Yankees
It's been another week and another injury again for the New York Yankees.
After just getting back from the disabled list, Curtis Granderson once again was hit by a pitch and broke a bone in his left hand.
It's been a tough season for the Yankees, who have been winning games with a patchwork squad put together by GM Brian Cashman.
The current Yankees team is a mix of veteran journeymen who were picked up as stopgaps and younger players who have been called up seemingly because there were no other options.
Either way, none of the best prospects in New York's organization has been moved up or down.
Whether this is a sign of a weak system or simply patience for developing players is not clear.
Nonetheless, let's take a look at how the best players in the Yankees' farm system did this past week.