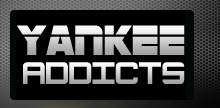 February 18, 2012 · Bill Ford · Jump to comments
Article Source: Bleacher Report - New York Yankees
New York Yankees right-handed pitcher Joba Chamberlain appears to be having a successful recovery from having Tommy John surgery.
Doctors performed the surgery last June, and Chamberlain has worked toward recovery in physical therapy and rehabilitation since then.
Since the surgery was performed and his time in rehab, there do not appear to be any complications or issues to prevent him from moving forward.
The Yankees plan to have him throw 35 pitches three times a week from a half-mound. They started him by throwing 10 pitches from the grass and 25 from the half-mound. He has progressed well so far, and there are no indications that should prevent him from beginning to throw.
Once Chamberlain's rehabilitation period is complete and he's ready to jump back in, the Yankees need to locate the best spot on the pitching staff for him.
He struggled in the starting rotation, especially in the second half of the 2009 season. In 2010, he lost his spot in the starting rotation to Phil Hughes while in spring training.
The Yankees discovered in the 2011 season that Chamberlain has greater success when he steps to the mound as a relief pitcher in later innings. His velocity remained higher when he came out of the bullpen.
Before Chamberlain ended up on the disabled list for his elbow, he was used as the setup man for Mariano Rivera. Rafael Soriano had that role, but when he ended up on the disabled list, Chamberlain assumed the role and performed far better than he did as a starter.
When he is ready to pitch in games again, Brian Cashman and Joe Girardi will have to decide on Chamberlain's role on the pitching staff. Clearly, he will not be a starter again. Pitching as the setup man is probably a good fit.
In a previous article, I wrote that he could be considered as a closer when Mariano Rivera retires. I still believe that he could do well in that role, but for now, I think that Chamberlain should be the setup man.
In the end, all that matters is that his surgery went well and he is recovering well. Wherever he ends up on the pitching staff, I'll be happy to see him back.
Read more New York Yankees news on BleacherReport.com