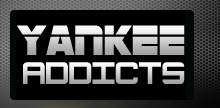 January 2, 2012 · Brian Buckley · Jump to comments
Article Source: Bleacher Report - New York Yankees
As the calendar pages change to 2012, the Yankees' necessities remain the same. Ringing in the annual New Year does little to modify the club's wishes from 2011. Starting pitching is still the most coveted desire for the Bombers, and the pool of free agents is getting shallower everyday.
A month ago, Roy Oswalt was one of few starting pitching options approached with severe caution by most teams, in part due to a contract demanding at least three years. But after being ignored for a good part of the winter, Oswalt and his agent came to their senses. They announced their willingness to consider possible one-year deals and set up shop for real negotiations.
Needless to say, the Yankees and a host of other suitors were immediately interested in acquiring the 34-year-old righty's services. Yet, even with the Oswalt camp's decrease in demands, warning signs are ever present.
First, he was diagnosed two years ago with two degenerative discs in his back, which for any athlete could be the beginning of the end. These back issues account for Oswalt's sporadic staring records since 2006, including 100 missed games. Any pitcher heading into their mid-30s with a bum back must be a shell of his former self on the mound, right?
Not in Oswalt's case.
While his back and missed starts are obvious concerns for any budding employer, his performance has barely suffered. In 2009, when Oswalt began to start feeling the effects of the back pain, he recorded his worst career ERA by far (4.12). However, his durability was retested in the 2010 season, and he scored a remarkable grade. His record of 20-14, an ERA of 2.76 and 211 innings pitched showed opponents he was far from finished.
Of course, inconsistency reigned supreme in 2011 with only 139 innings pitched and a 9-10 record. Even with less-than-stellar aforementioned stats, the hurler was still able to sport a 3.69 ERA while fighting through injuries. So, should Oswalt be a realistic option for the Bombers?
Months ago with a three-year deal attached to his name, the Yankees never appeared too interested in Oswalt. Now, with a change in demands, GM Brian Cashman and his cadre should be doing what they can to put him in pinstripes.
After CC Sabathia, the team is relying on a second-year pitcher in Ivan Nova, for we are left with question marks regarding Phil Hughes, A.J. Burnett, and Freddy García. Adding Oswalt, with a career 3.21 ERA, could mean a possible No. 2 behind the big man.
Once again, it all comes down to Oswalt's health. After proclamations of being injury-free, he is looking to show off his clean bill of health. The Yankees should offer a one-year contract with incentives built in for a possible second and third year to insure themselves against future setbacks for the pitcher. If Oswalt breaks down and his back becomes a nagging issue, the Yanks can sever ties and wash their hands clean.
If the Yanks do take a shot on the righty, this could pay off huge dividends in October.
Read more New York Yankees news on BleacherReport.com