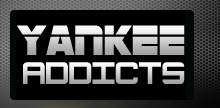 May 19, 2009 · Jabber Head · Jump to comments
Article Source: Bleacher Report - New York Yankees
I've heard some pretty terrible excuses in my day: "I forgot;" "The devil made me do it;" and "Baby, I was drunk."
But to blame an umpire review on an injury? That, my friends, is a first. And it's total crap.
New York Yankees reliever Brian Bruney cursed an 8 1/2-minute intermission during an umpires' video review for causing a strained flexor muscle in his right elbow.
The part that makes absolutely no sense about it all is the fact that Bruney was warming up during the April 19 incident (Jorge Posada's held-up homer) and actually went in and got three out in the eighth.
He didn't land on the disabled list until April 25, and pitched an inning in between, on the 21st, in which he was apparently still obsessing over the instant replay call, which was used in favor of his team.
"I don't know what the 8 1/2 minutes was all about," he said. "I don't know if like somebody was on lunch break or what… that's a long time for a reliever [to be throwing] or any pitcher to be throwing."
Am I the only one who's chuckling here?
Sooze is a Sports Jabber contributor. You can view more of her work at Babes Love Baseball
Join in the discussion on this and other topics in the NEW Sports Jabber Forums!