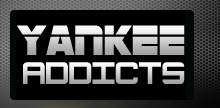 February 22, 2012 · Scott Gyurina · Jump to comments
Article Source: Bleacher Report - New York Yankees
Curtis Granderson, for several seasons one of the more dynamic talents in Major League Baseball, elevated his game in 2011 and produced a career year with the New York Yankees.
The 30-year-old center fielder, an All-Star previously in 2009, had been a powerful offensive threat for years in Detroit, while also covering vast expanses of territory in Comerica Park's outfield.
His thrilling combination of speed, power and defense, as well as his affable personality, made him a fan-favorite as a member of the Tigers.
Nothing changed in that regard upon his move to the Yankees prior to the 2010 season. Exciting, hard-working, and gracious with fans and media alike, Granderson quickly endeared himself to everyone in New York as he once had in Detroit.
His first season as the Yankees' center fielder wasn't without its negatives however.
Granderson's batting average (.247) and on-base percentage (.324) dipped to new career-lows for a full season. He also was only able to steal 12 bases and endured a groin injury, which caused him to miss almost a full month during May.
High strikeout totals—always a part of his game—still plagued him, and most disturbingly, his inability to hit left-handed pitching was an omnipresent factor continually limiting his success.
Over the course of 2010, Granderson hit only .234 against lefties, with a putrid OBP of .292 as well as an OPS of .647.
Throughout his career, the lefty-swinging Granderson had struggled with southpaws, hitting only .209 with a .600 OPS against them prior to 2010.
His inaugural season in New York represented a slight improvement against lefties, due in large part to a late-season revamping of his approach at the plate.
Granderson had put in extensive work with Yankee hitting coach Kevin Long in order to simplify his swing, hoping to put his past travails against lefties behind him.
Apparently, the extra hitting sessions and re-tooled approach worked for Granderson, as he hit .286 with an .875 OPS against lefties following his adjustment.
He carried that success into the postseason, where he hit .357 with a 1.121 OPS against all hurlers during the Yankees' ill-fated playoff run.
Thankfully, he didn't forget what he had learned from Long over the offseason and he returned in 2011 as a significant threat no matter which arm the pitcher used.
Not only was he successful against both righties and lefties, but he produced a career year in which he finished fourth in the American League MVP balloting.
In total, Granderson hit .262 with a new career-best .916 OPS, as well as a 138 OPS+, also a new personal high.
He crushed 41 home runs, improving upon his previous max by 11, and led the league with 136 runs scored and 119 RBI. As a result of respect for his improved power production, Granderson also set a new career-high with 85 walks, which helped drastically improve his OBP from the two seasons prior.
Perhaps most impressive was the continuation of his newly found success against southpaws.
In a complete reversal of his established career norms, Granderson hit .272 with a .944 OPS against lefties, actually surpassing his splits (.258/.902 OPS) against right-handed hurlers for the year.
His .597 slugging percentage against lefties was almost equal to his previous career mark of .600 in combined slugging and on-base percentage, a telling statistic if there ever was one.
Not only did his rate stats improve drastically, but he crushed 16 home runs in 219 plate appearances against lefties, leading all Major League hitters in 2011.
He still struck out frequently, doing so 169 times, but the Yankees can certainly live with that considering the way the ball jumped off his bat when he did make contact.
Before you dismiss Granderson's success as an ill-gotten beneficiary of Yankee Stadium's favorable dimensions, you should know that he hit .262 with a .921 at home, while hitting .263 with a .911 OPS on the road.
Of his 41 home runs, 21 were hit at Yankee Stadium, compared to 20 away from home. His remarkable consistency immediately abolishes the notion that his fantastic season was merely a product of Yankee Stadium's short porch in right, as some erroneously contend.
Can we expect more of the same from Curtis Granderson moving forward?
Thus far, Granderson's 2011 statistical reversal against left-handed pitching represents an aberration when viewed within the context of his previous career standards. It may still be too early to declare him a changed hitter, considering the relatively small sample size of his renaissance against lefties.
However, when combined with the fact that he did intentionally address the issue by altering his hand position and minimizing his toe-tap at the plate, we have reason to believe that Granderson and Kevin Long may have corrected the persistent flaw.
It may not be entirely realistic to expect Granderson to replicate his incredible dominance from 2011, but it's not outlandish to count on him approaching last year's success.
There were no particular indicators that would lead us to believe that he simply got lucky in 2011. He didn't produce an abnormal batting average on balls in play (BABIP), a statistic that could indicate a substantial amount of good fortune last year.
His .295 mark was an improvement over his two previous seasons, but it was below his career mark of .311. Granderson's 24.5 percent strikeout rate was easily his highest since 2006, so it wasn't due to a reduction in Ks.
Additionally, his 76 percent contact rate was his lowest since 2006.
Against lefties, his BABIP of .305 was better than his career mark of .275, but that is not a particularly unrealistic number to repeat. He struck out 26.9 percent of the time against southpaws, just north of his 25 percent career mark, but when he did connect, he drove far more balls than he had previously.
There will of course be adjustments to be made, as pitchers across the league will likely pitch him differently than they did last season. With a season of legit MVP candidacy under his belt, Granderson will no longer sneak up on hurlers and surprise them with his immense power.
They will have paid close attention to his breakout season and will seek to exploit his weaknesses with varied patterns and pitch sequences.
He may not be challenged with fastballs on the inner-half as often as he was last year, after forcing pitchers to respect his explosive power. That's generally not the wisest strategy with fly-ball happy lefties in Yankee Stadium regardless.
While it may be difficult to reprise his stellar splits against left-handed pitching in 2012, his revised approach will likely enable him to at least be a solid threat against pitchers of each persuasion.
Since year-to-year splits against right and left-handers often vary anyways, we could potentially see him regress closer to his established career splits.
I wouldn't expect the variance to be that drastic though, as he often looked like a different, more confident hitter than he ever had been prior to last season, no matter who was on the mound.
If he can once again find the comfort zone with his calmer, simplified approach at the plate, Curtis Granderson should remain a powerful, dynamic threat at the dish in 2012.
Will he once again figure into the AL MVP debate?
That much remains to be seen, but if he can remotely repeat his 2011 success, the Yankee lineup is loaded with enough firepower to remain one of the most dangerous offenses in baseball throughout 2012.
All statistical information from:
Read more New York Yankees news on BleacherReport.com