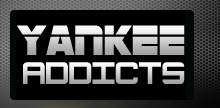 December 21, 2011 · Joe Acampado · Jump to comments
Article Source: Bleacher Report - New York Yankees
What would the offseason be without a blockbuster trade happening?
A lot of focus has been on the free agent market, but the pitching department seems to be low on stock.
Brian Cashman hasn't liked what he's seen there, so he'll likely go elsewhere to get that pitcher the New York Yankees so desire. That place could end up being Philadelphia.
Cole Hamels is going to be a free agent after the 2012 season, and it seems like he wants the big bucks.
The Philadelphia Phillies may want to move him to get some value back and restock their farm system.
If Cashman can pull off a trade for Hamels, then it'll surely be the biggest acquisition of the offseason.
Of course, this is purely all speculation since there's been no word on if the Phillies are going to move Hamels and break up their rotation.
However, the trade makes sense for both sides. Here are the reasons why.