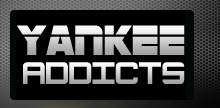 December 19, 2011 · Brian Buckley · Jump to comments
Article Source: Bleacher Report - New York Yankees
Despite the lackluster free-agent class this offseason, most Yankee fans foresaw a more active winter from the front office. Outside of "taking care of their own" and bidding on a Japanese shortstop, the Bombers have been quite mum on adding personnel.
At the same time, the club won 97 games last year in the American League East. Let's also not forget that they were one clutch hit away from appearing in the ALCS.
With all that being said, we are dealing with the New York Yankees. They fell short of a stroll through the Canyon of Heroes and that just doesn't cut it in this town (Well, unless you're the Mets).
As significant free agents are disappearing the way of the Dodo, there appears to be a few left on the endangered list that could fit in with the Yanks. If the stars align and the money is right, these players could end up in pinstripes for 2012.