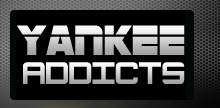 March 9, 2010 · nyyankeefan forever · Jump to comments
Article Source: Bleacher Report - New York Yankees
So the Johnny Damon-Scott Boras good cop-bad cop feature film is over at last. "The Goodbye Boy Part 5" that played in newspapers, blogs and radio talk shows everywhere has finally come to the end of its run in Detroit.
Was it an epic saga? A melodrama? A romance? A buddy flick?
A little of each probably, but mostly it was a broad farce, and with a surprise ending coming that only long-suffering Tigers fans will be able to appreciate come Opening Day.
With Damon batting behind Yankee prospect-turned-Tiger Austin Jackson, the Tigers lineup now boasts a 22-percent "Official Yankee Castoff" seal of disapproval.
So what kind of show can the fine fans of Detroit expect from their game day tickets this season?
A whodunnit, for starters. Who exactly, they will ask themselves again and again, had the bright idea to essentially swap an economically priced young All-Star in a vaunted payroll amputation for an even bigger ticket Damon?
Perhaps a psychological drama. For all of Damon's current declarations that he would rather have been a Tiger than a Yankee four years ago (eerily echoing even earlier claims he made with the Red Sox that he'd never leave them for the Yankees), it doesn't change the fact that he disingenuously claims at every turn that he never turned down $14 million for two years from NY GM Brian Cashman, and then in the next breath asserts he has no idea if agent Scott Boras didn't turn it down for him without his knowledge and that, if he did, Boras wasn't speaking for him.
I don't know if that says more about his own stupidity, his chilling narcissism, or his ill-disguised disdain for the intelligence of baseball fans, but whatever it is, Tigers fans, it's now all yours to enjoy.
What about the Costnerish feel-good locker room script? True, he was a well-liked guy in the Yankee locker room palling around with a bunch of other well-paid, far more talented nice guys that Cashman hand-picked to surround him with in the lineup. So what? Ruth and Gehrig despised each other. The triple ring 1998-2000 Yankee clubhouse was a war zone. Winning is the only thing that matters. Chemistry is nice, but on the days Damon sat down, the Yankees always won anyway. Look it up.
Face it. Ol' JD's done like dinner, and as a hardcore Yankee fan who watches every game and would like to thank you all for the Granderson deal, consider yourself warned.
Like ribald cross-dressing comedies with lots of costume-changing antics? Johnny's your man. He's an overrated paycheck player who throws like a girl.
Feel like a good mystery? You'll be asking yourselves time and again this season how this renowned speedster mysteriously managed to switch bodies with a corpse. Speed was the biggest lie in Boras's playbook, and Tigers management bought it. His legs are gone, and our centerfielders Brett Gardner and Melky Cabrera had to cover left center for him all season.
He only had 12 stolen bases all year batting No. 2 with the most accomplished lineup of contact hitters and power bats in baseball directly behind him. That's only two more SBs than Melky, by the way, who batted ninth, played less games and was our worst hitter. That double-steal he pulled off in the Series was a Phillies double error, nothing more.
In left field, though, is where your ticket really buys you a ringside seat to the season-long thriller that is Damon, as you gasp and cringe at how his rusty wheels and noodle arm inflate opposing batters' RISP average.
If you're expecting respectable run totals out of him like last season, then you're obviously a fan of the suspense genre, but better not hold your breath to the end. You'll see why only eight of his HRs were hit away from Yankee Stadium. If you're planning on spending any time down the right-field line at Comerica this year with a glove hoping to snag a Damon homer for a souvenir, you've got a long wait ahead of you. Better snare one on eBay. It'll be a lot cheaper and far quicker.
Bottom line: Without our sweet rightfield porch in the Bronx, and Arod and Teixeira batting behind him, Johnny Spoiled Rotten will not see another season in major league baseball after this one, let alone another post-season.
It's been heart-warming, really, watching the fans of all the teams with a Tiger Woods-like fixation on this refugee from the Evil Empire's Damon/Matsui geezer dump rooting to sign him. And reading the ecstatic rationalizations of Detroit sportswriters and bloggers at landing him was a real tear-jerker.
But now, Tiger fans, it's time to grab some kleenex, blow your noses and buy a clue. For years, the myth of the Yankees' role in inflating league salaries to unjustifiable levels for unworthy personnel has festered. But deals like Damon's in Detroit somehow leak through the sieve of collective memory. Well, this one is all on the Tigers. They wanted him and they got him for the price they paid with nobody bidding against them. And we got Granderson.
Enjoy the show everybody, and thanks again for your generosity. We'll tell Grandy you all said hello.
Popcorn anyone?
[For even more Yankee fun, see the musical comedy vid "Joe's Job – The Ballad of Terry Francona" at
http://www.youtube.com/watch?v=WvVZQnELQ9s
It's must-see entertainment for baseball fans everywhere!]
Read more New York Yankees news on BleacherReport.com