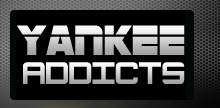 March 8, 2012 · Ken DeJohn · Jump to comments
Article Source: Bleacher Report - New York Yankees
Sophomore starter Ivan Nova was rocked today for five runs in the Yankees' 6-1 loss to the Blue Jays. He threw 2 2/3 innings while allowing six hits in the contest. Nova also walked one and served up a two-run homer to Toronto catcher J.P. Arencibia.
After taking the loss in Thursday's game, Nova now sits at 0-1 this spring. In 4 2/3 innings, he has posted an unimpressive 11.57 ERA (six earned runs) and allowed seven hits. Opposing batters are hitting at a .304 clip against him.
Sure, it's still early on in Spring Training, but should the Yankees be concerned with Nova's early struggles?
Manager Joe Girardi attributes the early struggles to a lack of command, saying:
"I thought he got in bad counts. That was the difference. When he got behind, they hit it. We talk about the importance of being able to pitch ahead, and I think that's why we talk about it. He kind of lost command of the fastball and he got behind and when he had to throw a strike they didn't miss it. These guys are getting ready to compete, in a sense. We saw some velocity out of him today, saw some 95s today."
It's great that Nova is touching 95 on the gun so early in the spring, but I'm sure the team would rather him sacrifice some velocity if it would result in better production.
There's a lot of pressure on Nova to pitch well this season following his breakout 16-4 season in 2011. Nova pitched to a 3.70 ERA in 2011, but he also had a WHIP of 1.331.
Even with the low ERA last season, it's evident that Nova had a problem with putting runners on base. With 57 walks and 163 hits allowed in 165.1 innings, it seemed as if he was always pitching out of the stretch.
He did well in limiting the number of times those runners scored, but it's very difficult to bank on him limiting the damage again next season. To be on the safe side, Nova will need to lower that WHIP.
Yes, it's Spring Training, however, the Yankees would still like to see Nova pitch well. Even with a revamped rotation, there still are a few question marks.
Can Hiroki Kuroda adjust to the AL East?
Will Michael Pineda develop his changeup?
Who will be the fifth starter?
With so many other questions, the Yankees would like to know that they have at least one other consistent starter behind workhorse CC Sabathia.
All signs pointed to that guy being Nova, but we may have to rethink things if he continues to pitch like he did on Thursday.
Read more New York Yankees news on BleacherReport.com