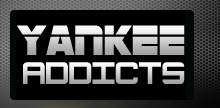 April 22, 2009 · Matthew Falkenbury · Jump to comments
Article Source: Bleacher Report - New York Yankees
In honor of just finding out that Yankee folk hero Clay Bellinger grew up in our college town of Oneonta NY, I decided to make the most important list you will ever see. No, it is not the best Yankees ever, nor the greatest ballplayers alive, and not even the best Hollywood actors; these are just a few of the athletes who emerged from the cold darkness known as obscurity. Their batting averages and other statistics cannot tell their whole story for their careers.
Heck, some of these guys are considered more of a Yankee than A-Rod ever will be.
Alright, I can't tell a lie, they all are.
Here the most obscure Yankees of recent memory: