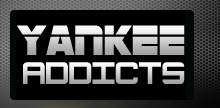 February 13, 2010 · Doug Rush · Jump to comments
Article Source: Bleacher Report - New York Yankees
Work has kept me away from Bleacher Report for a couple weeks now, and I do apologize for that. But I am back with another topic for the Yankee section to talk about and discuss.
It was reported recently that Yankees General Manager Brian Cashman was not going to talk contract extensions with Derek Jeter, Mariano Rivera and Joe Girardi before the season starts in 2010.
Relax, this is nothing new from the team. If anything, it's a good thing.
We've seen in other places how trying to negotiate with players before a season or even during a season can be a huge distraction and can take away from a player's performance, so really, it's no big deal if Cashman decides to wait until the off-season to deal with the three.
So now comes the bigger question. Does Cashman re-sign all three?
In the most simplest of terms: yes, yes, yes!
Now, lets start with Girardi.
He took the heavy criticism in his first year and early on in year two for the Yankees struggling. He took the criticism in 2008 for being the manager that didn't have the Yankees get to the playoffs. He took the criticism for the Yankees starting 0-8 against the Red Sox.
Yet, he was still the manager who had the Yankees finish 9-1 against those same Red Sox in 2009, won 103 games and the American League East, demolished the Twins and Angels en route to the American League Championship and smoked the defending champion Phillies to win the Yankees first World Series in nine years.
Unless something drastic happens, Joe Girardi is coming back as manager for the Yankees, and will be the manager for a while. My guess is anywhere from a three-year to a five-year deal is coming for Girardi, and it's because he brought a World Series championship to the Bronx in his second season. If he can repeat as champions, then Girardi is a guaranteed shoe-in for 2011 and beyond as the Yankees skipper.
Lets move on to the Yankees captain.
What can you say about the future Hall of Famer shortstop except, what a hell of a career.
And it's not over yet for Jeter, who will turn 36 this June. Jeter's contract expires at the end of the year, but really, everyone knows Jeter is going to finish his career out in pinstripes.
Jeter will only play for one team, we all know this. It's the Yankees. It was his boyhood team growing up, it's been the only team and place he's called home, and it's where he will finish his career.
Now, it all depends on how long Jeter envisions playing until is the question. Does Jeter play beyond 40? Does Jeter take one last contract and call it a career after? Only he really knows.
A few years from now, Jeter will have the chance to become the first Yankee in history to reach the 3,000 hit plateau in his career, a milestone that guarantees a spot in the Baseball Hall of Fame in Cooperstown. But the way Jeter hits with an average of about 200 hits a season, Jeter can go further than just 3,000 if he really set his mind to it.
My guess is the Yankees will probably offer a four-year deal with an option for a fifth around $80 million.
Jeter will be an older shortstop at the time of a new contract, but it's also Derek Jeter. I would personally hand over a blank check and tell Jeter to fill it out himself if it came right down to it, and so would a lot of other Yankee fans.
This leaves me with the greatest closer of all time.
The last time Rivera was up for a contract, there was some worries, because some felt that Rivera could go elsewhere and maybe the Yankees wouldn't make a big time offer. Why? I have no idea. But Rivera got signed for another three years and the worrying was over.
Rivera is 40 now and will be 41 when he will be a free agent. Now, a lot of people felt that Rivera would retire after this contract was up with the Yankees. And Mariano was even quoted as saying he thought 2010 was his final year.
That was until the 2009 World Series, where Rivera said he felt like he could still pitch a few more years. That changes things a little.
Now, most closers might be out the door at 41. But Rivera is still dominating hitters with his cutter, so really, if Rivera can still bring it, then he still has his spot on the team.
Plus, if Rivera left, who really is going to take his place? Now that's a scary thought in itself.
My prediction with Rivera is one of two options. They could go with the Andy Pettitte route and go year to year with him with one year deals and see how he feels after each season.
Or, they could offer him a two-year deal and possibly groom a closer in that time to eventually take Rivera's place, or if nobody emerges, find a closer on the free agent market.
Hopefully, if any of you had any worries on Jeter, Rivera and Girardi's contract situations, this puts your mind to ease.
But I also feel that a lot of the Yankee faithful were never too worried to begin with.
Cashman won't let these guys go, and none want to leave, so when next November comes around, they'll all be still in pinstripes no matter what.
Read more New York Yankees news on BleacherReport.com