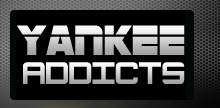 May 27, 2009 · Heartbeat Of The Bronx · Jump to comments
Article Source: Bleacher Report - New York Yankees
Yankees outfielder Nick Swisher was all smiles when the season began. He was ecstatic to be in New York, and the city was likewise elated to have him.
Swisher's personality and youthful enthusiasm are infectious, and his playful antics added an uplifting dynamic to a once stale and businesslike clubhouse.
After a torrid start at the plate that made even Hell appear to have a cool and refreshing breeze, Swisher instantly became a fan favorite.
He engaged the fans with a genuine sense of interest and appreciation and had an endearing "everyman" quality about him.
Swisher was even given the opportunity to pitch an inning during the month of April, and his excitement and unyielding smile could have illuminated the stadium without the use of its light fixtures.
Smiles and laughs have quickly turned into expressions of doubt and concern, as Swisher has been nothing short of a disaster in the month of May.
In 22 May games, Swisher is hitting just 8-for-67 (.119) with two HR, eight RBI, and 25 K. He has transformed into the same automatic out that made him expendable in Chicago during the offseason.
The discrepancy between home and away performance is even more startling.
In the undeniably "hitter-friendly" confines of Yankee Stadium, Swisher is just 8-for-65 (.123). He has produced just one of his nine home runs and three of his 27 runs batted in at home.
Unfortunately for "Swish," the statistics don't get any better from here.
In Yankee losses, he is hitting just .158, which helps to illustrate his inability to drive in key runs late in ball games.
Swish's propensity to fail in clutch situations is further emphasized by his efforts in big games in general.
When playing against Toronto, Boston, and Philadelphia—the two biggest divisional threats and defending World Series Champions—he is 3-for-37 (.081).
Swish is also just 4-for-18 against Tampa Bay and went 2-for-14 during the magical four-game sweep of the Minnesota Twins—which involved three walk-off victories he clearly played no role in.
He has officially been placed on Yankees life support after hitting into a seventh inning double play with the bases loaded during a 4-3 deficit last night. He is now 0-for-5 with the bases loaded this season.
The numbers speak very loudly for themselves, and there are many more we could focus on had a horde of stats not already been forced down your throats like baby food.
Perhaps Swish needed the presence of Xavier Nady to push him to succeed. Perhaps the worry of losing his job gave him the extra edge he needed to maximize his contributions.
Nady and Jorge Posada appear set to return within the next one to two weeks, so Swish better begin to heat up—or face being returned to a utility role on the roster.
Luckily for Swish, it appears that Nady will be relegated to a DH role during his first few weeks back in pinstripes, which will help to expand his "rejuvenation" time frame.
Fans have every reason to love him, and he still has helped to positively change the clubhouse and dugout atmosphere.
However, it is becoming more and more obvious as to why he is a career .242 hitter. We may never see another month as productive as April 2009 for Mr. Swisher.
Also Seen At: Heartbeat of the Bronx