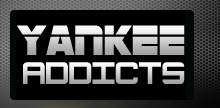 May 5, 2009 · Rob Abruzzese · Jump to comments
Article Source: Bleacher Report - New York Yankees
Nick Swisher wasn't even guaranteed a starting spot in the lineup coming out of spring training, but it's hard to imagine him taking a seat on the bench when Xavier Nady returns now.
That's because Swisher has become one of the Yankees biggest offensive weapons and he's endeared himself with fans at the same time.
A .300 average, .434 OBP, .688 slugging, 1.122 OPS, seven home runs, 19 RBI's in 24 games will do that. Oh yeah, his 1 IP, 0 ER, and 1 K helps too.
All of that and his name isn't even on the all-star ballot.
Well, VoteSwisher.com is helping to get him voted to the all-star game anyways.
From their site:
Swisher is a player who gets it. Not only is he a throwback player who is always hustling and working hard; but he is amazing with the fans. Swish isn't on the ballot, so we need write-in votes.

Let's make this happen so that players like him get the recognition they deserve! You can vote 25 times online, but you need to write him in. Click here to get to the ballot and follow the prompts. It's pretty simple and takes only a couple minutes to vote 25 times. Before you leave the site, visit our mobilize page. That's how we make this happen.

Let's do this.
So go and check out their site and more importantly vote for the player who has kept the Yankees offense afloat while they wait for Alex Rodriguez to return from the DL and Mark Teixeira to get comfortable in the Bronx.