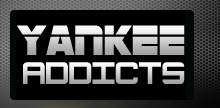 May 23, 2009 · A.J. Martelli · Jump to comments
Article Source: Bleacher Report - New York Yankees
The Philadelphia Phillies were playing like the defending World Series Champions up until the ninth inning.
The game on Saturday afternoon seemed all but over when Alex Rodriguez stepped up to the plate with closer Brad Lidge on the mound.
With the Yankees down 4-2 in the bottom of the ninth and Johnny Damon on second base, Rodriguez dramatically knotted the game at four with a two-run homer into the seats in right field.
Showing life in the inning with Robinson Cano on second, Melky Cabrera delivered the death blow, a double into right-center field to give the Bronx Bombers a 5-4 victory over Philly.
For Cabrera, it was his third walk-off hit of 2009, and he received a whipped cream pie in the face from teammate A.J. Burnett, a ritual that is becoming a staple when the Yankees walk off with a win.
"We're feeling really good and playing great ball," Rodriguez told the media after the come-from-behind win.
"It's really special and we're all playing together. It felt really good."
The Yankees received other offensive contributions in the game from Derek Jeter, who crushed a solo homer in the sixth inning, and Nick Swisher, who recorded an RBI with a groundout to short in the second.
Andy Pettitte took the hill for the Yankees today. He lasted seven innings and gave up four earned runs on five hits. He walked two and struck out five.
Three of the Phils' four runs came off the bat of John Mayberry, who smacked a three-run home run in the top of the fifth. It was his first big league home run, and coincidently it came in his Major League game.
Raul Ibanez also homered for the Phillies, taking Pettitte deep in the top of the second. He now has 17 home runs on the season, good for first place in the majors.
Jose Veras notched the win for the Yankees, and now owns a 3-1 season record out of the bullpen.
Chad Durbin and Ryan Madson each recorded a hold, but it was all for naught as Lidge blew his third save of the year. He gets the loss, and his record is now 0-2.
Tomorrow afternoon, the Yankees and Phillies will play the rubber game of the three-game weekend set.
CC Sabathia (4-3, 3.43) will start for the Yankees against Phillies' ace Cole Hamels (2-2, 4.95 ERA).
Media Credit: Fox Sports, Yankees.com