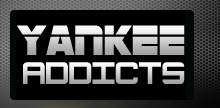 April 21, 2009 · Rob Abruzzese · Jump to comments
Article Source: Bleacher Report - New York Yankees
According to Mark Feinsand of the Daily News, Yankees outfielder Xavier Nady was diagnosed with a partial ligament tear in his right elbow that will not require Tommy John surgery so he will only be out 4-6 weeks instead of the remainder of the year.
The latest round of test results were examined by noted orthopedist and Angels team physician Dr. Lewis Yocum – the same doc that performed Nady's elbow surgery more than seven years ago – early on Tuesday, with a diagnosis of a partial ligament tear coming down in the afternoon.

Nady remains on the 15-day disabled list. He is hoping to return in 4-6 weeks.

"Obviously I wanted to avoid surgery if possible," Nady said. "I hope going this route works out."

Nady, who injured his elbow last Tuesday night against the Rays, went through a series of tests during the past week to determine the extent of the injury. Nady said he felt a sharp pain while making a throw in the seventh inning of that game, removing himself from the field after the half-inning was over.

Nady had believed he would require surgery after his first MRI, telling teammates he was headed for an operation that would end his season. Nady underwent Tommy John surgery on the same elbow in Sept. 2001.
This is great news for the Yankees, especially considering Hideki Matsui's recent problems with his knee. If he gets worse and misses extended time, then the Yankees are going to need Nady to fill in. And what better place to play him than at DH, where he won't have to throw?