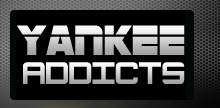 March 3, 2012 · Ken DeJohn · Jump to comments
Article Source: Bleacher Report - New York Yankees
With an 8-5 win today over the Philadelphia Phillies, Spring Training has officially begun for the New York Yankees.
Yesterday, the Yankees defeated the South Florida Bulls 11-0 in an exhibition, but today marks the first official game on the Yankees' long road to No. 28.
Ivan Nova got the start for the Yankees, opposing left-handed Cole Hamels.
In two innings of work, Nova allowed a first inning home run to Hunter Pence, along with another unearned run, while striking out two. He also made an error on an attempted pick-off.
Even with the struggles, Nova pitched pretty well in his two innings of work.
David Phelps came on in relief of Nova and pitched exceptionally well. He allowed just one hit and struck out one batter in his two innings of scoreless relief.
Phelps figures to start the season at AAA, but is a player to watch as a potential mid-season call-up.
The next Yankees pitcher to take the mound is one that will have immense amounts of attention this spring. Left-hander Manny Banuelos was shaky in his two innings, walking two and allowing a hit. He did not strike anybody out, but he also did not allow a run.
Dellin Betances was next on the mound, and he figures to have similar amounts of attention on him this spring. In one scoreless inning, Betances struggled with his command and walked two batters.
Lefties Cesar Cabral and Mike O'Connor pitched the final two innings of the contest.
Cabral, who figures to be given the final spot in the bullpen seeing as he is a Rule-5 player, allowed two hits in his scoreless inning.
O'Connor struggled—to say the least—in his lone inning of work. He allowed three runs on three hits, one of which was a home run off the bat of Kevin Frandsen. He walked one and struck out one as well.
The Yankees offense was strong all afternoon. In the third inning, Curtis Granderson launched a solo home run off Dave Bush, and outfielder Cole Garner hit a two-run homer in the seventh off of Chad Qualls.
Following his strong showing in the game against South Florida, left fielder Zoilo Almonte recorded a two-run double in his lone plate appearance, pinch-hitting for Garner.
Mark Teixeira, Derek Jeter, Alex Rodriguez and Robinson Cano were all absent from the starting lineup.
Despite the victory, it's clear that the Yankees have much to work on this month.
Banuelos and Betances need to learn to settle down a bit and throw some more strikes, while Eduardo Nunez needs to work on his fielding; he made his first error of the spring in today's game.
Thankfully, that's what Spring Training is for. Hopefully everything can be worked out and improvements can be made on the Yankees long journey to No. 28.
Read more New York Yankees news on BleacherReport.com