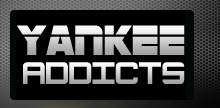 February 10, 2012 · Doug Rush · Jump to comments
Article Source: Bleacher Report - New York Yankees
Over the last couple of days, the rumor mill has been heating up, right before spring training begins for the 2012 season.
One name you see involved in trade rumors lately is Yankees starter A.J. Burnett.
Burnett went 11-11 with a 5.15 ERA in 190 innings for the Yankees last season and has been a big disappointment since coming over to New York in 2009.
He did pitch very well in Game 4 of the American League Division Series against the Detroit Tigers, saving the season for one more game with a victory.
But Burnett is 35 heading into the 2012 season, and with each passing year, he's gotten worse.
Yankees GM Brian Cashman knows this, and when he brought in Dodgers free-agent pitcher Hiroki Kuroda, that was the writing on the wall for Burnett. It basically told Burnett that if the Yankees can find a taker for him in a trade, he can pack his bags.
According to Buster Olney, the Yankees have been talking to the Pittsburgh Pirates in a deal for Burnett, and in return, they want right fielder Garrett Jones.
Jones, a 30-year-old outfielder, hit .243 with 16 home runs and 58 RBI in 2011 with the Pirates.
Pittsburgh's GM Neal Huntington reportedly told the Yankees no on Jones, and right now, the talks are at a standstill.
That doesn't mean talks will get going, but if Cashman is set on dealing Burnett before the 2012 season, he'll find a way.
Moving back to the National League may be a good thing for Burnett at this stage in his career. Facing weaker lineups and a pitcher every couple of innings can certainly help the longevity of his career, which is now starting to head toward the tail end.
The two biggest obstacles Cashman will encounter in any deal involving Burnett will be the money and the players involved.
Burnett is still on hook for two years and $33 million. The Yankees know that they will have to take on most of the contract if they want to deal Burnett, similar to what the Cubs had to do with Carlos Zambrano before shipping him to the Miami Marlins.
It's basically eating the contract for two more years—be done with him now, and then at the end of 2013, be done with it all.
The other problem is what players the Yankees will want in return. Pittsburgh is the first—and only team I know of—that has publicly expressed any desire for Burnett. And it does not want to relinquish Jones.
That means the Yankees will either have to ask for a player of lesser value or move on to another team. And that might be the problem they run into with other teams if they express interest in trading for Burnett.
Cashman really has to understand that he either has to eat the contract and take minimal players in return or keep Burnett.
And with the rotation for the Yankees looking pretty full, I'd say Cashman should look to trade Burnett to a team that could use pitching and not look for much in return for a 35-year-old who has been inconsistent his whole career.
By the beginning of the 2012 season, I do expect Burnett to not be pitching in pinstripes at Yankee Stadium.
Only one question remains. What team dares to take on Burnett and his baggage for two years?
Stay tuned, Yankee Universe.
Read more New York Yankees news on BleacherReport.com