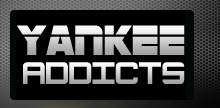 March 3, 2013 · Doug Rush · Jump to comments
Article Source: Bleacher Report - New York Yankees
A little over a month ago, the Yankees were "keeping tabs" on a former ace.
The team was going to monitor Chien-Ming Wang's progress, and in particular monitor how he pitched for the Chinese Taipei team in the World Baseball Classic this month.
If his performance on Friday was any indication of how he could pitch going forward, the Yankees may in fact want to give him a second opportunity.
Pitching against Australia, Wang tossed six shutout innings, allowing just four singles, walking none, striking out two and picking up the win in a 4-1 contest.
Wang pitched for the Yankees from 2005-2009 and went 55-26 during his tenure with the team.
His last two seasons were marred with injuries and extreme inconsistency, and he did not return to pitching in the majors until 2011 with the Washington Nationals.
In Washington, Wang has pitched as both a starter and reliever and had been trying to get back to the old success of what he once was.
Sure, his start against Australia isn't pitching against a team like the Angels, Rangers or Red Sox, but it's just what Wang needed.
According to Joel Sherman of the New York Post, the Yankees were among just a few of the teams on hand to watch Wang pitch Friday night.
#Yankees among teams watching Chien-Ming Wang, who threw 6 SHO IP vs. Australia in WBC

— Joel Sherman (@Joelsherman1) March 2, 2013
Considering Wang looked very sharp in his outing with Yankee scouts in attendance, I would not be shocked one bit if the Yankees offer him something very soon.
Even if the Yankees offer Wang a minor league deal with incentives, it's certainly worth a gamble.
The strength of the Yankees will likely be their pitching staff, and if healthy, their rotation as-is has the possibility of being very good.
If the Yankees do decide to add Wang into the mix again, he could really make that pitching staff an even better one, especially if it's the Wang the Yankees remember watching for five seasons.
In recent years, the Yankees gambled on veterans like Bartolo Colon and Freddy Garcia and both moves ended up working out.
Gambling on Wang could work out as well for the Yankees in 2013.
Stay tuned, Yankees Universe.
Read more New York Yankees news on BleacherReport.com