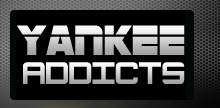 June 9, 2013 · Ryan Tolmich · Jump to comments
Article Source: Bleacher Report - New York Yankees
The New York Yankees are North America's most successful team. With 27 World Series titles to their name, the Yankees are a perennial contender, which has drawn both love and hate from fans all over the world.
However, for the first time in decades, the 2013 Yankees are being viewed as have-nots. Injuries have crippled a team that has been forced to field a lineup of less-than-marquee names such as David Adams, Chris Stewart and Jayson Nix. The team is missing their captain, their star center fielder and their annual steroid scandal, which has left the team without a majority of its offensive firepower.
But here's the thing: This team has stayed afloat. They have survived. They have endured. But most importantly, they have put themselves in position to scare a few teams in a season that looked to be a throwaway.
Despite missing five of their starting positional players for most of the season, the Yankees remain in contention in the always-competitive AL East. While it is still early in the season, making it out of this injury-filled abyss is something that this team can take pride in. If the Yankees can stay 10 games above .500 with a ragtag bunch of has-beens and never-weres, what can they do when their all-stars come back?
To answer that question, we can look at the production of Mark Teixeira, who recently returned to the lineup after a long stint on the disabled list. While he hasn't quite got his average up to where it needs to be, Tex has been producing.
Last week's series against Cleveland saw the switch-hitting first baseman drive in seven runs on two home runs, including a grand slam. Teixeira hasn't exactly found his consistency, but a hot Tex is a scary sight for every Major League pitcher. With the returns of Curtis Granderson and Derek Jeter imminent, the Yankees seem to have a cavalry full of reinforcements just waiting to jump in.
Despite the injuries, the stars that have remained have stepped up admirably. Robinson Cano has led the way with his 15 home runs, providing offense for a team that has had a desperate need for his bat.
CC Sabathia has continued to be the Yankees workhorse, especially in his last outing as he threw a complete game to give a tired Yankees bullpen a rest. Finally, role players such as Lyle Overbay, Vernon Wells and Kevin Youkilis have stepped in at times to provide an offensive spark.
However, this season's most impressive Yankee has been future Hall of Famer Mariano Rivera. Mo has been virtually flawless, as he has converted 23 of 24 save attempts. Rivera currently boasts a 1.48 ERA and 1.11 WHIP, both of which are amazing numbers for a 43-year-old coming off of an ACL injury.
Despite the strong performances, this will be Rivera's last Major League season, as he is retiring at season's end. Would there be a more fitting way for the five-time world champion to end his career than with a sixth? Shouldn't Mariano ride into the sunset in the Canyon of Heroes with confetti raining down upon him? Can the Baseball Gods end Mariano's career with anything other than a World Series Game 7 save?
We'll see. But while most careers don't have storybook endings, this one might, as this Yankee team looks to have a chance at making a run for their 28th World Championship.
How far do you think the Bronx Bombers can go? Have your say with a comment below.
Read more New York Yankees news on BleacherReport.com