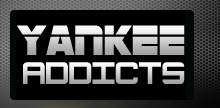 May 8, 2013 · Jack Godfrey · Jump to comments
Article Source: Bleacher Report - New York Yankees
The New York Yankees started the season with All-Stars Curtis Granderson, Mark Teixeira, Derek Jeter, and Alex Rodriguez all on the disabled list.
These four athletes, along with Robinson Cano, are the core of the team. It's no easy task replacing four All-Stars in one off-season—however, the Yankees needed to find players to play a role in the team until they come back.
They compiled a lineup of unproven athletes and journeymen veterans such as 35-year-old-Travis Hafner, 36-year-old Lyle Overbay and the most overpaid player in baseball, Vernon Wells. The Bronx bombers have been shocking the majors by playing .500 baseball while simultaneously fielding Hafner, Overbay, and Jayson Nix.
Wells, who will make $24,642,857 this season, posted a slash-line of .230/.279/.403 with 29 RBI in 77 games in 2012, according to baseball-reference.com. Hardly a bargain for Brian Cashman and the Yankees.
The Yankees are winning so far, but the lineup does not inspire confidence for a full season or the immediate future of the team.
The Yankees need to make some sort of transaction to help bolster their team for not only this season but seasons to come. There should be no confusion as to which player is the right one for their team.
That player is San Diego third baseman Chase Headley.
If numbers don't lie, then it's safe to say that Chase Headley was a top 10 player in the league last season. He batted .287, hit 31 home runs and had 115 RBI on one of the worst offensive teams in the league.
He also came out of the season with an offensive wins above replacement of 6.0, which was sixth highest in all of baseball. This saber metric stat means that simply having Headley play his position and come to the plate three or four times a game for the season gives a team six more wins than they would get with an average player.
Headley ended up finishing fifth for the NL MVP vote, winning a Gold Glove and a Silver Slugger at third base for a team that won only 76 games. The 28-year-old Headley has a lot of baseball left in him, and he will be one of the premier players in the league as he begins to hone is his skills and enter his prime.
Headley also would add a lot of depth to the Yankees lineup, because he is a switch hitter who can rake from the right and left side of the plate.
Last season, he hit .298/.402/.510 with 20 homers and 69 RBI as a left-handed hitter and .265/.320/.481 with 11 homers and 46 RBI as a right-handed hitter. The trade for Headley would give the Yankees another weapon in the infield for years to come.
The Yankees also have the prospects to make the trade happen. If a trade were to happen, it is likely the Yankees would have to send the Padres a few of their prospects, such as Mason Williams, Tyler Austin or Slade Heathcott, as well as a pitching prospect or two.
The Yankees must make this trade because it will benefit the team for years to come. The tandem of Headley and Cano in the lineup would be incredible for the next 10 years.
Read more New York Yankees news on BleacherReport.com