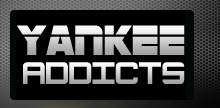 June 17, 2009 · chris cipriano · Jump to comments
Article Source: Bleacher Report - New York Yankees
The last time the Yankees won the World Series was 2000. That is over eight years ago, and an eternity in Yankee land. They made it back to the World Series in 2001 and 2003 losing to the Diamondbacks and Marlins, respectively.
The 2001 World Series was an especially tough series, as they lost in Game Seven after blowing a lead in the ninth inning. After that game the dynasty that was the New York Yankees had effectively ended, but no one knew at the time.
Following that season the Yankees lost Tino Martinez and Chuck Knoblauch to free agency, and they also lost Paul O'Neill and Scott Brosius to retirement. They had previously lost David Cone following the 2000 season.
It was clear that nucleus of the championship winning teams was not coming back, and the Yankees were shifting toward a different direction.
When the Yankees won they won on a core of cheap, homegrown players. Free agents are supposed to complement the core. After the 2001 season the Yankees completely abandoned that ideal.
The first of the many mistakes that would follow was in free agency that winter, when the Yankees made their first splash by signing Jason Giambi to a seven year, $120 million contract. They also had to take on Giambi's personal trainer as part of the deal, a clear shift from the low maintenance guys they Yankees used to have.
The Yanks also decided to sign Rondell White over Johnny Damon. White was terrible in his first season with the Yanks, and was traded for next to nothing after that.
They then signed Robin Ventura to play third base and replace Scott Brosius. Another signing was Steve Karsay, who actually pitched well for one year, then got hurt and only pitched 12-and-two-thirds innings but collected 17 million dollars.
It continued into the season, when they traded for Raul Mondesi and one of their biggest gaffs trading Ted Lilly for Jeff Weaver, who was the first of many starting pitchers who failed in New York.
Javier Vasquez, Kevin Brown, Carl Pavano, Jaret Wright, Kei Igawa, and Randy Johnson followed suit. The Yankees lost their core and their playing values, and they couldn't replace that in the open market or from their porous farm system because baseball had changed.
Baseball established as increased revenue sharing system that funneled more money from the richer teams such as the Yankees to the poorer teams. Baseball also decided to equally share all revenue generated from in internet as MLB.com was launched in 2001.
While the extra money other teams were receiving wasn't stopping the Yankees from spending, it did allow these smaller market teams to lock up their young talent and postpone their free agency.
This made the free agency pool a lot weaker when the Yankees went to plug their holes because of their scarce farm system. It also made those young players older when they finally did hit free agency and, thus, were not in their prime years when signed.
An example of this: Instead of signing Roy Halladay, who was signed to a long term deal by the Blue Jays (who might not have been able to in the past), the Yankees were left to sign Carl Pavano and Jaret Wright.
The Yankees were left paying big bucks for players that were past their prime.
In the following seven World Series since the 2001 World Series, 12 different teams played in them, with the Red Sox and the Cardinals being the only teams that have been there more than once (both have been there twice).
Also, in 2007, for the time since 1988, no division winners repeated. The big teams are still big, but are no longer dominant, and teams such as the Colorado Rockies, Tampa Bay Rays, Detroit Tigers, Houston Astros, and Florida Marlins have won or been in the World Series—a thought that would have seemed impossible ten years ago.
Parody is certainly evident in baseball, and it isn't going away any time soon. The Yankees have come close to winning recently, but unless they start changing their spending way in free agency and rebuild the farm system, they will continue to get beat by teams with payrolls that are a fraction of the Yankees.
The old Yankee teams back in the mid to late 90's were "teams," while the most recent editions of the Yankees have been more of a collection of individual stars.