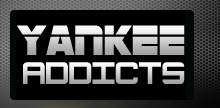 November 25, 2011 · Joe Acampado · Jump to comments
Article Source: Bleacher Report - New York Yankees
As of right now, the New York Yankees are basically paying no attention to Prince Fielder or even kicking around the idea of adding him to the team.
While they are set on offense and should be focused on pitching, they should at least entertain the idea of what Fielder can bring to the team.
Fielder would probably be better off playing in the National League just because playing in the American League as a DH would give him the chance to match his weight with his salary.
However, Prince Fielder could do a whole lot of things for the Yankees and here's why.