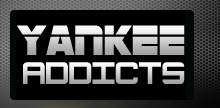 February 24, 2013 · David Ryan · Jump to comments
Article Source: Bleacher Report - New York Yankees
On Sunday, New York Yankees outfielder Curtis Granderson fractured his forearm against the Toronto Blue Jays in only the second game of spring training.
The Yankees were already mulling an outfield shift this spring. With Granderson's injury, the move is assured—at least for Opening Day.
Assuming that Ichiro will slide to left field for defensive purposes, there are several viable candidates for right field on Opening Day. There are ex-major leaguers like Matt Diaz and Juan Rivera, 40-man options like Melky Mesa and Zoilo Almonte and even unsigned free agents like Grady Sizemore (who is still recovering from his own injuries).
The non-roster-invitee list is also full of options.
Remember this is day two, Yankees faithful.
Jeter's still rehabbing, Rivera is taking headlines by throwing live batting practice to rookies and Jorge Posada isn't un-retiring on a silver horse.
No, the best option for the Yankees is OF prospect Slade Heathcott. He is a former first-round pick of the Yankees in 2009. He has had a tumultuous minor league career with shoulder surgeries, 100-strikeout years and trips to Alcoholics Anonymous.
He has found God, and his play in the Arizona Fall League opened eyes. He is already a captivating story, an electric talent and is in major league camp. He grades out and has scouts buzzing, with Baseball America rating him as the Yankees' best defensive prospect and No. 2 prospect overall.
In my eyes, he is Mickey Mantle at best and Gabe Kapler at worst.
The Yankees do not shy away from aggressive promotions with young hitters (see Jeter, Cano, Gardner). Maybe there are risks associated with promoting him, like his high-energy, go-getter attitude and professional decorum becoming clouded by cynicism after failures at the Big Show.
But I think that Heathcott is the real deal. His ability gets him on the roster, but his youth and outlook are essential to a team that is aging, hurt and in need of lightning streaks. If Girardi and Cashman have any sense about them, they will eschew mid-tier, replacement-level players and strike with a hot prospect. Their jobs could depend on it.
Read more New York Yankees news on BleacherReport.com