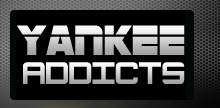 March 12, 2012 · Alex Epp · Jump to comments
Article Source: Bleacher Report - New York Yankees
Derek Jeter is probably the biggest face of baseball, and possibly the most beloved athlete in today's era.
Now entering into his 18th season in Major League Baseball, all as a Yankee, Jeter's time as Yankee captain is coming to an end.
Not only is Jeter 37 years old this year, but his production has been declining over the past two years at a surprising rate.
In 2009, Jeter had one of the best seasons of his career: he hit a monster .334, stole 30 bases and belted 18 home runs.
In the two seasons since then, Jeter has batted .282, stolen 34 bases and hit 16 home runs, including just six last season—his lowest season total since becoming a Yankee.
With the dramatic drop off in production from 2009 to 2010, there was lots of talk about how much longer Jeter would be able to perform to the high standards that he has set throughout his career.
More importantly to Yankee fans, Jeter's production in the post-season has not been the same either.
In 2009, Jeter's outstanding production in the regular season did not slow one bit in the playoffs, as he batted .344 and hit three home runs in his 64 at bats.
After that season, he has only hit .250 in two seasons, while only scoring eight runs.
Yankee fans are the types that want to see one thing and one thing only. Another championship ring every year. And with a $195,350,000 payroll, why wouldn't they?
After the drop-off season, Jeter played in 26 fewer games last year, and there is some speculation that he might lose his lead-off spot to Brett Gardner this season.
With Gardner continually getting better over the past few seasons, he may be next in line to become not only the lead-off hitter, but conceivably the new team captain.
Although Gardner doesn't match up to the exact same skill level as Jeter did in some categories, he does excel in those that Jeter is average at.
Last season Gardner stole 49 bases, He had 47 the season before.
The way the Yankees are slowly fazing Jeter out seems to be in line with when his current contract with the Yankees is set to end.
With only two seasons and a player-option for a third season left, I don't see the Yankees extending that any further.
By then, Jeter will be 40 (41 if he exercises his option) and would be among the oldest active players in baseball at that point.
It would take some huge seasons over the next few years for Jeter to stay on as the New York Yankees captain.
But if he keeps playing and trending the way he is now, by the time his contract expires—and maybe even before that—the Yankees will have named a new captain and Jeter will have gone into the Yankee history books.
Read more New York Yankees news on BleacherReport.com