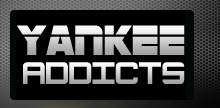 December 16, 2012 · Colin Kennedy · Jump to comments
Article Source: Bleacher Report - New York Yankees
It is a harsh reality that fans of the New York Yankees may have to face in coming months, but there are several reasons to believe that Alex Rodriguez's injury just might be a blessing in disguise.
Of course, nobody associated with the organization was pleased to hear that their starting third baseman and arguably one of the greatest hitters of all time would miss a large chunk of the 2013 season because of hip surgery.
However, given the current state of the Bronx Bombers, such disheartening news could ultimately prove positive for the Yankees moving forward.
The immediate future brings uncertainty in the form of a polished veteran and historically hated Kevin Youkilis.
But the bigger picture looms large in the Bronx, as fans in New York hope to catch at least one more ring before Father Time croaks on their aging roster.
Will the absence of Alex Rodriguez prove fortuitous for the fragile Yankees? Here are a few reasons I believe there is reason for optimism:
No Pressure
When one player is earning a hefty $30 million paycheck, it isn't easy to move him up and down the lineup card each and every night.
Just ask Joe Girardi.
That is exactly what happened this past October when Alex Rodriguez struggled mightily to reach base in the playoffs. And even though his production warranted the change, A-Rod's eventual benching triggered a media circus of epic proportions.
Of course Kevin Youkilis will receive mixed receptions coming into New York after spending nine seasons in Boston.
But production at third base will ultimately win fans over in the Bronx, regardless of the past.
The new Yankees infielder will undoubtedly have something to prove when he puts on the pinstripes for the first time this coming spring.
However, there is no way that Kevin Youkilis will attract the attention that Rodriguez does annually.
Insurance
It is difficult to believe that the prospect of career-ending hip surgery to one of baseball's best all-time players would be beneficial by any stretch of the imagination.
But in the case of 37-year-old Alex Rodriguez, that just might be the case.
As the New York Yankees continue to cut costs in an effort to avoid the luxury tax, massive contracts like the one Rodriguez signed in 2007 are giant obstacles.
However, if for some reason A-Rod was not able to return to the playing field following his hip surgery, the Yankees will reportedly be compensated for a large portion of his remaining salary, according to ESPN.com's Wallace Matthews.
Such a scenario would free up tons of cash and provide New York's management with unfathomable flexibility on the free-agent market.
It would, of course, be sad to see a legendary career end on such abrupt terms.
But it is nothing a few marquee signings and a 28th World Series ring couldn't fix.
Something to Prove
Comparing their numbers, Kevin Youkilis and Alex Rodriguez actually had strikingly similar statistical seasons in 2012.
But moving forward into 2013, there are few reasons to believe that trend will continue.
A second major hip surgery for Rodriguez could prove fatal to his swing at 37 years of age. Meanwhile, Kevin Youkilis will likely enter spring training in good health at the age of 33. A change of scenery for the former Red Sox third baseman may also prove beneficial for the Yankees and Youkilis himself.
Entering a city where he was once a hated villain, Youkilis will have a chip on his shoulder and something to prove in 2013.
As many fans of the Yankees know, Youkilis knows how to hit when he is going right. His production from 2008 to 2010 made Youk a target of high fastballs in New York and a legitimate candidate for the American League MVP Award.
Now he has changed sides.
And he has the opportunity to revitalize his career and bolster a powerful lineup in the city that never sleeps.
Will Kevin Youkilis help make Alex Rodriguez a lost cause in New York?
I guess we will have to wait until next summer to find out.
Read more New York Yankees news on BleacherReport.com