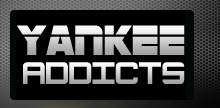 December 5, 2012 · Colin Tansits · Jump to comments
Article Source: Bleacher Report - New York Yankees
With the MLB Winter Meetings in full swing, the prospects of another quiet offseason aren't far off.
Even with the loss of Nick Swisher, and also with Alex Rodriguez having hip surgery, it doesn't look as though the Yankees and Brian Cashman are going to surprise anyone with any big moves this offseason.
Cashman's hands are tied with the Steinbrenner cost cutting mandate. Also, the re-signings of Andy Pettitte, Mariano Rivera and Hiroki Kuroda all points toward the Yankees now focusing on signing position players.
It has been speculated that Cashman's hand is still dipped in the Josh Hamilton sweepstakes, but it would take a lot of moving parts for that to happen.
So, with Cashman's spending purse on lock down by the New York front office, where can the Bombers turn?
Is it possible that the Yankees might turn to…their farm system?
As shocking as it may seem, here are five prospects that you might be seeing on the New York roster in 2013.