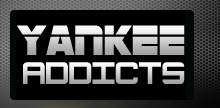 January 20, 2013 · Doug Rush · Jump to comments
Article Source: Bleacher Report - New York Yankees
It's almost the end of January, and Alex Rodriguez is still a member of the New York Yankees.
After uttering that sentence, that sound you just heard is probably a very loud groan because people were hoping he would be gone around October.
Fans were hoping for A-Rod's exit after he hit .125 in the ALDS against the Orioles and .111 in the ALCS against the Tigers.
Actually, fans were hoping for his departure after hearing that he was flirting with fans after being taken out of Game 1 of the ALCS, an act many deemed to be unprofessional, especially during a playoff game.
Yet, here we are almost three months later, and he's still on the team.
But then the 37-year-old's offseason got even more interesting, as he just completed surgery on his hip and will need six months of recovery time.
That means Yankee fans won't see A-Rod until mid-July, at least.
What can fans expect to see from him once he returns from the surgery?