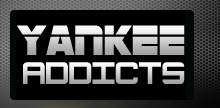 October 7, 2011 · Luke Johnson · Jump to comments
Article Source: Bleacher Report - New York Yankees
If Baseball has taught me one thing it is this: Lay off the superstitious Kool Aid.
If you believe in team destiny, then what happened to the Rays being THE TEAM OF DESTINY?
Did the gods of the game take a night off, oversleep, get angry at Joe Maddon's overtly rectangular glasses? What?
Nothing can be attributed to the sport itself after a Tigers somewhat dramatic 3-2 win over the Yankees last night. A game that pushed the Yonkers into offseason cocktail parties on private candle lit boats; nights under cabanas on the sun fevered beaches, drinking the finest pina coladas.
Can Tigers fans really believe they are a team of "destiny" too, after knocking off the all-mighty?
Destiny in what?
Free agency? Trade schemes? Large contracts? A great coach in Jim Leland? The likes of an entire all-star roster? Destiny in trumping the indemnified beast? All of which, have nothing to do destiny and everything to do with pragmatic team building.
Does it matter that the New York Yankees had ONE blaring weakness all season? Pitching. Yes pitching, like thee biggest component to post-season success.
How much postseason "magic" then, does one team really need when you boast the best low-ball hitting lineup in the league and a do-it-all superstar middle of the order bat like Miguel Cabrera when facing off against an inconsistent Yankees pitching staff?
Nada.
Mix in a rotation led by the best pitcher in the American League in the heavy handed heat slinging Justin Verlander and you have an equation for postseason success.
A-Rod was a prime example of this: 2-18 in the series, 0-4 with three K's last night, which proved just how dominant the Tigers staff really is.
This is something Cashman and co will address this off season, purging names like A.J Burnett in order to go after bigger more doable aces.
So Yankees and New York fans just relax, kick your feet up and enjoy the ride. One way or another your beloved team will do what all pragmatic corporations do: address weaknesses, fire, cut, re-hire and re-invent in order to stay cutting edge and relevant.
It's the Tigers future I'm not so sure about. Their a team with so much talent but so little recent success, which is prime for catching the superstitious fairy-tale bug.
I intend in seeing them blast off into the stars like dazed princesses, slumbering in their one-year run before losing for another decade.
Now poised to face a spitting image of themselves in the ALCS against the Texas Rangers, and anything is possible.
Flip a coin, play a game of cards, or flick the first domino in a long line of dominoes, and watch that series be as random and as unpredictable as the quality of a street side cheese steak.
On the flip-side to things, maybe people like me are part of the greater collective of antagonist, people nudging teams like the Tigers toward heroic success.
And if that is the case than faith and rationalist might be two peas in a pod, both illuminating the game's greatest conundrums.
Read more New York Yankees news on BleacherReport.com