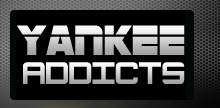 February 15, 2013 · Doug Rush · Jump to comments
Article Source: Bleacher Report - New York Yankees
The relationship between the Yankees and Alex Rodriguez is at the point of no return now.
Four years ago, A-Rod was outed for taking performance enhancing drugs while he was with the Texas Rangers, but said he had been clean while as a member of the Yankees.
Four years later, the Yankees third basemen is now tied to allegations that he had been receiving PEDs from a Miami doctor while as a member of his current team.
The Bombers are absolutely fed up with a guy they are paying MVP-type money, but are getting lackluster production out of, not to mention, headache after headache every single time his name is in the media.
And what's even worse; the Yankees are on the hook with A-Rod for another five years and $114 million of the same old song and dance.
For the sake of the Yankees future and their sanity, a breakup has to happen. A-Rod can not be a member of this team anymore.
Currently, A-Rod is recovering from hip surgery and is nowhere near Tampa, Florida, where the Yankees are currently residing as spring training has officially kicked off for 2013.
What can the Yankees do to make sure that this break happens?
Lets take a look at what the Yankees can do regarding the trouble and mess known as Alex Rodriguez.