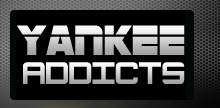 May 22, 2013 · Jake Singer · Jump to comments
Article Source: Bleacher Report - New York Yankees
After a spring training riddled with injuries and speculation about how poorly the New York Yankees would play this year, the team has surprised many and sits in first place heading into Memorial Day weekend. The pitching has allowed the fewest runs in the American League, and offensive additions like Vernon Wells, Travis Hafner and Lyle Overbay have provided a spark.
While injuries remain, the hysteria has subsided and trade rumors are less prevalent as the team has gotten into a groove. Here are the latest rumors from the Bronx.
Robinson Cano Extension
When Robinson Cano came to spring training, it appeared that he and agent Scott Boras were ready to test the free-agent waters, as Boras loves to do. But then Cano fired Boras and hired Jay-Z, signaling that he might be prepared to take a contract extension for less money to stay with the Yankees.
The Yankees typically don't negotiate contract extensions before they expire, but Hal Steinbrenner said last week that the team has spoken to Cano's representatives and that they would like to give the MVP candidate a contract extension before he reaches free agency.
I think the sides will eventually agree to an eight-year deal worth $180-200 million, but there's no urgency at this point, so there's no reason to think a deal will get done in the near future.
Andy Pettitte's Timetable
The Yankees placed Andy Pettitte on the disabled list last Friday with a strained trapezius muscle, which has to scare the team and its fans since to date the starting pitching has been the most healthy unit on the club. But the team doesn't seem to be to concerned. In fact, they don't think he will need much more than 15 days to return, meaning he would miss only three or four starts.
Mark Teixeira's Return
Coming back from a wrist injury, Mark Teixeira is in Tampa at extended spring training. According to Mark Feinsand of the New York Daily News, he's taking at-bats in simulated games. The next step is a rehab assignment with one of the team's affiliates. At this point, Teixeira is hoping for a mid-June return, although with Lyle Overbay's strong play, the Yankees do not need to rush him back and will probably be conservative with Tex's rehab.
Will Mariano Rivera Return?
The greatest closer of all time is pitching about as well as he ever has in what he has proclaimed his final season. But if he continues to pitch as well as he has, can he really retire? Will he really hang up his cleats and turn down a $15-20 million offer? Time will tell and Mariano Rivera will make up his own mind, but I'll believe he's retired when I see it.
There are your top rumors for the Yankees this week. Admittedly, there's not much juicy gossip going on in the Bronx right now after a hectic, whirlwind spring that saw several important Yankees pieces go down with injuries. Now, reinforcements are starting to come and the team will keep chugging along, hopefully staying in first place.
Read more New York Yankees news on BleacherReport.com