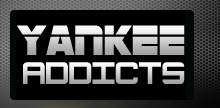 April 22, 2009 · Shanan H. · Jump to comments
Article Source: Bleacher Report - New York Yankees
That's right, trade the Yankees face of the organization to the Padres.
It makes sense…The Padres shortstop went down with an injury, and the Padres are looking for a replacement for him.
Now who would the Padres give the Yankees for Derek Jeter?
Adrian Gonzalez.
Rumors are going around saying the Padres may want to trade the first baseman, even though he is hitting .300.
Where would he fit on the Yankees roster?
Easy. The first baseman was drafted as a third baseman. Put Gonzalez at third, and move Rodriguez to short.
And don't worry about Gonzalez's defense.
He's won a gold glove at first, and has a .983 fielding this year.
But, Gonzalez isn't all the Yankees should get.
If the Yankees throw in some cash in this trade, Chris Young may also make the 6 hour flight to NYC.
Young is a great prospect, and will make a great living for the Yankees. Since starting in San Diego, he has had an ERA under 4.00 every year, and under 3.50 every year but one.
And, he has a future.
So does Gonzalez.
Jeter's future is age.
This trade may sound bad, but the Yankees should start giving up older guys, even if they are important in the NYC environment.
So, my radical new batting order and rotation look like this:
1. Garner, CF:
2. Damon, LF:
3. Rodriguez, SS:
4. Teixeira, 1B:
5. Gonzalez, 3B:
6. Swisher, RF:
7. Matsui, DH:
8. Posada, C:
9. Cano, 2B.
Rotation:
1. Sabathia
2. Young
3. Burnett
4. Chamberlain
5. Wang/Pettite