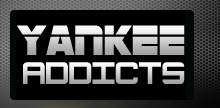 February 24, 2013 · Andrew Martin · Jump to comments
Article Source: Bleacher Report - New York Yankees
The New York Yankees received bad news Sunday about another of their key players, when it was announced that starting left fielder Curtis Granderson will miss at least ten weeks with a broken forearm. This will cause the Yankees to scramble to find possible replacements.
The story was first reported in a tweet by YES' Jack Curry:
Granderson has a fracrured right forearm. Estimated that he will be major league ready in 10 weeks.

— Jack Curry (@JackCurryYES) February 24, 2013
The story was confirmed by CBSSports.com's Mike Axisa.
Granderson suffered the injury when he was hit by a pitch during his first spring training at bat in a game against the Toronto Blue Jays.
About to turn 32, the left-handed hitting Granderson was due to switch to left field for the first time in his career.
Since joining the Yankees prior to the 2010 season, he has become one of the most valuable hitters in their lineup. Although he slumped to a .232 batting average last year, he's totaled 108 home runs and 292 RBI the past three seasons, and his 84 home runs since 2011 represent the most in baseball during that time.
The Yankees enter 2013 already shorthanded, with Alex Rodriguez and Michael Pineda expected to miss significant time, and aging veterans Derek Jeter and Mariano Rivera coming back from serious injuries of their own.
New York will need to find a replacement left fielder for the start of the season and perhaps beyond, depending on Granderson's recovery time.
Click through to see the top three possible replacements for Granderson.