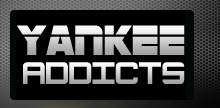 March 9, 2012 · Bill Ford · Jump to comments
Article Source: Bleacher Report - New York Yankees
The New York Yankees have been, and continue to be, the most historic major league team in organized baseball.
Yankee history is filled with legends who played at every position on the field, stars who made mesmerizing plays and hits and home runs that left opponents standing in shock and awe.
Every team has a minor-league system loaded with young prospects battling for a shot to play in the big leagues.
Signing on to a minor league team in the Yankees' system is a different experience for these young players. The pressure is greater. Expectations are higher. The Yankees organization and the fans expect and demand the best.
This is Yankees Universe.
Each level in the New York farm system has talented prospects working as hard as they can to achieve their dreams of someday walking out on to the grass and the dirt in Yankee Stadium wearing those historic pinstripes.
Most probably won't make it to that level. The few who do have to accept the responsibility that goes along with the honor of wearing pinstripes.
They must exceed expectations.
Spring training is in full swing as players demonstrate their skills and abilities at all levels and prepare for the 2012 season.
Take a look at 10 prospects to watch during spring training who have a shot at making it to The Show.