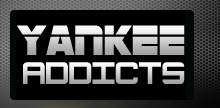 February 9, 2012 · Joe Acampado · Jump to comments
Article Source: Bleacher Report - New York Yankees
The New York Yankees.
Just about everyone in America knows of the Yankees. Just about everyone in America can name at least one Yankee player. That's what happens when you win 27 championships and dominate a sport like no other team.
Everyone recognizes the Yankees' history and acknowledges that they have had many great teams. Even your most staunchest Boston Red Sox fan from Yawkey Way has to admit it. He probably won't do it in public, but any baseball fan recognizes the legacy of the Yankees.
The Yankees have had many legends don pinstripes. Superstars have played for them in both Yankee Stadiums. Monument Park is filled with their plaques and each fan has their favorite Yankee.
Championship teams aren't built on those stars alone, however. The more important pieces are the guys around them. For every Babe Ruth, Lou Gehrig and Mickey Mantle, there's a Bernie Williams, Jimmy Key or Tony Kudek doing the little things.
This is a list of those players so they finally get their moment in the spotlight, if even for just a moment.