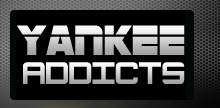 April 28, 2009 · Jeff Fleishman · Jump to comments
Article Source: Bleacher Report - New York Yankees
From The Voice of Yankees Universe, nyyankeesrumors.com.
One thing I've learned from watching the Yankees: you can't get too high and you can't get too low. It's all about the balance. The ying-yang. Homeostasis. You get the idea.
And so far, that's exactly what the 2009 team has done for us; as fans, we've had some ups, some downs, and a lot in between. Through 20 games, the Yankees stand at 10-10, which puts them right in the middle of the road. They're not in last place. They're not in first place. They're just mediocre.
The offense is fine. There are a few players that haven't gotten off to a great start (here's looking at you Mark Teixeira), but that is to be expected. Teixeira has never been a fast starter.
Robinson Cano, on the other hand, has been one of the best hitters in the league during the month of April. His average stands at .381, and he is currently riding a 15-game hitting streak, a far cry from his dismal start in 2008.
The pitching is not fine. The Yankees have the highest ERA in baseball (well over six), but the ERA is somewhat inflated because of three games in which they allowed 15 or more runs.
CC Sabathia hasn't looked like the Sabathia of last year, but then again, he started off slowly in 2008.
A.J. Burnett has looked great, except for his last start against Boston. Joba Chamberlain has had control issues, while Chien-Ming Wang has had…issues (a 34.50 ERA through three starts).
Andy Pettitte is Andy Pettitte. He gives up a lot of base runners but he has a knack for getting out of jams. At this point, he is the team's best starter.
Phil Hughes, meanwhile, may be ready to take a spot in the rotation, especially after his dominant performance against the Tigers tonight. His fastball stands at around 92-ish, and his hook has a strong, knee-buckling drop to it. I like it.
The bullpen has had a Jekyll and Hyde feel to it. Some games, the guys out there are lights out. Others, not so much. But the first 20 games have shown me that Jose Veras, Damaso Marte, Edwar Ramirez, Phil Coke, and Jonathan Albaladejo cannot be trusted in big situations. And now Bruney is injured.
So that basically leaves Mariano. Oh, where have you gone, Tom Gordon?
Hopefully the next 20 games go a little better for the Yankees. This team is too good to settle for mediocrity.