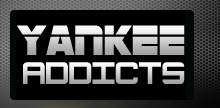 January 9, 2013 · Doug Rush · Jump to comments
Article Source: Bleacher Report - New York Yankees
It's been anything but an offseason to remember if you are a New York Yankee fan.
Normally, fans are accustomed to seeing the Yankees make at least one blockbuster move every winter. Whether it be by trade or via free agency, Yankees GM Brian Cashman is known for making an impact move.
So far, heading into the middle of January, the team has yet to do either of those things, and some fans are getting a little restless with the inactivity.
Granted, it was right around this time last year when, in a span of two hours, the Yankees traded Jesus Montero to the Mariners for Michael Pineda and then signed Hiroki Kuroda as a free agent.
I don't know if the Yankees have any of those kinds of moves in them before pitchers and catchers report next month, but Yankees fans everywhere are still holding out hope.
The team still has holes to fill—such as a starting catcher, designated hitter and fourth-outfielder—so we could certainly see some moves made before camp breaks.
But that is wishful thinking, and here are the five biggest disappointments from the Yankees so far this offseason.