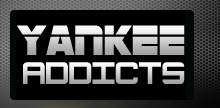 March 4, 2013 · Will Carroll · Jump to comments
Article Source: Bleacher Report - New York Yankees
Will Carroll has produced an annual Team Health Report for each MLB team for 12 years. The report gives risk ratings for every player in the expected starting lineup and starting rotation, plus two relievers. A proprietary formula sets a baseline according to a player's age and position. It is adjusted by 12 factors, including injury history, team history and expected workload.
This risk rating is classified into three tiers—red (high risk), yellow (medium risk) and green (lower risk). It should be used as a guideline and is about probability, not prediction. To learn more about how the Team Health Reports are devised, click on this article.
2012 Rank: 28th best of 30 teams in DL days and dollars lost
Biggest Injury: Michael Pineda, $10.5 million lost value
Head Athletic Trainer: Steve Donohue
The Yankees went into last season without longtime athletic trainer Gene Monahan, who retired in 2011. While their ranking isn't exactly good, it's not bad given what Steve Donahue and Mark Littlefield had to work with.
The freak injury to Mariano Rivera weighs heavily here, while keeping Alex Rodriguez and Derek Jeter healthy for most of 2012 doesn't show up. They'll start in the hole, with Rodriguez out at least half the season.
The quick, simple return of Jeter from ankle surgery is a better measure of the kind of thing this staff can do. Flat out, they rehab well.
That bodes well for Rivera and CC Sabathia, who is coming off minor elbow surgery. Getting both into their normal roles is key for this team, but it will be more important to handle maintenance on Jeter, Mark Teixeira and Curtis Granderson. Everyone on the team seemed to be run down by October, and that's not something we've seen from the Yankees before.
This team may not be spending money like it did back in Big Stein's era, but it's never held a medical advantage. (Yes, the Yankees did have a small one for a bit, as they were one of the early teams to understand the predictability of Tommy John rehab, signing players like Jon Lieber at a lower cost.) Instead, the Yankees have thrown their wallet around to get past any injuries and accepted high risk players.
It's worked, more or less, but at some point, this team is going to either need to get lucky and stay just healthy enough, or the Yankees are going to have to get serious about team health in a much different way.
Click ahead for the Yankees. Here are links to all the teams' health reports.
Will Carroll is the Lead Writer for Sports Medicine at Bleacher Report. He has written about sports injuries and related topics for 12 years. His column is called "the industry standard" by Hall of Famer Peter Gammons.