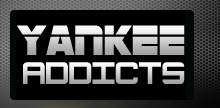 April 11, 2010 · Travis Rand · Jump to comments
Article Source: Bleacher Report - New York Yankees
If this trend continues, maybe we should all just skip the first game of the series.
The Yankees started a three-game series with the Tampa Bay Rays on Friday night and wrapped it up on Sunday evening, with plenty of back and forth action in-between.
David Price started game one and went a career high seven and two thirds, with a whopping 111 pitches, which is considered a pretty big amount for a kid with as much upside as he does.
It was definitely the right move by Joe Maddon, as the Rays escaped with a win after blasting newcomer Javier Vasquez in his first game in pinstripes.
Game two went a little differently, however and came pretty damn close to being one for the ages. Sabathia took the hill for the second time this season after getting the no decision in Fenway on Opening Night.
This night would prove much different though, as he would go seven and two thirds…without allowing a hit. It was the second time CC has come within a few outs of a no-hitter and this one was a complete gem.
There was fantastic defense behind him, as Cano, Tex and A-Rod all made spectacular plays on the diamond. The bullpen would finish it out for a dominant 10-0 victory.
Game three would be the closest of all, with AJ Burnett squaring off against James Shields. Chances are that Burnett was most likely just happy to be the heck out of Boston.
In the game, Nick Swisher and Jorge Posada would go deep and the rest of the lineup would add a few doubles and stolen bases to cap off a great series offensively, defensively and pitching wise.
Let's bring up the guys movin' up, and the ones movin' down.
Three Up: Keep on Doin' What You're Doin'
CC Sabathia: 7.2 IP,one Hit, two BB, five K's
Sabathia threw an absolute gem on Saturday afternoon and showed why he is one of the elite pitchers in the American League.
Although Boston roughed him up a tad, CC bounced back well and had a nasty changeup to offset his fastball that was hitting the high 90's.
His next start is slated to come on April 16th against the Texas Rangers. where he hopes to improve to 2-0.
Alex Rodriguez: 5-for-12, three Runs, one 2B, one 3B
Although the Yankees are the only team left in the majors without a home run from their cleanup hitter, A-Rod showed some flashes of the bat this weekend at the Trop.
Both of his extra base hits were high up on the wall, similar to his long double that he hit in Fenway in the first series.
As long as he can continue to get himself on base, Rodriguez could return to 2007-2008 form where he hit over .300.
Curtis Granderson: 4-for-11, one Run, one 2B, two RBI, two BB, two SB's
Granderson had a statline packed with good numbers, including his two walks and two swipes.
What DIDN'T appear in the boxscore was his stellar defensive plays, including a diving catch in the third game that was incorrectly called a single, after the second base umpire thought he trapped it.
With the way Curtis has been hitting the ball, I would be surprised if he didn't belt at least one ball over the Yankee Stadium right field wall during the Angels series.
Maybe seeing all the diamonds will motivate him even more.
Three Down: Alright, it's Early. Let's Not Make it a Habit
Javier Vazquez: 5.2 IP, 8 Hits, 8 ER's, three BB, five K's
Vazquez picked up in pinstripes right where he left off. Unfortunately.
Javy breezed through the first three innings, but the Rays strung together some hits for a five run fourth inning and that spelled a quick defeat for Vazquez.
His next outing will be against the Angels, who although have a weaker lineup than last season, still have some pop.
Vazquez will have just as much trouble fending off Anaheim as he will the Yankee faithful if he has another outing like this.
Next Series Preview
I normally like to go with three players down here, but I honestly feel that Vazquez was the only one who underperformed during this series.
Gardner only played in two of the games, but stole two bases and had two hits in the first game of the series.
Nick Johnson and Mark Teixeira both picked up their first hits of the season, and are both drawing plenty of walks. Teixeira sports an OBP a full 150 points above his average, and Nick Johnson's is climbing every day, now at a boastful .367.
The Angels come to town on Tuesday, where the defending champs will collect their 27th World Series rings and hopefully win another series to go three for three for the early season.
Some players to watch in this series are Brett Gardner, who is 3-for-10 against the Angels in his career, with three stolen bases and Derek Jeter, who hits a ridiculous .435 against Ervin Santana with two homers and three walks.
The season is still young, but a hot start is better than a cold one.
Pride. Power. Pinstripes.
Travis Rand is a former Community Leader for the New York Giants until school ate up his free time like. His archive can be found here . He is a strong believer in Neftali Feliz, Carlos Santana and Tiger Woods.
Read more New York Yankees news on BleacherReport.com