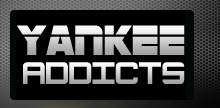 December 17, 2009 · Doug Rush · Jump to comments
Article Source: Bleacher Report - New York Yankees
On Monday, Hideki Matsui left the Yankees to sign a one-year deal to become the Angels' new designated hitter.
Matsui's departure leaves a large hole at the DH spot in the Yankees' lineup.
Now, the Yankees were toying with the idea of bringing Johnny Damon back and possibly using him as the DH, if not for left field.
But since Damon and the Yankees haven't progressed in contract talks, the Yankees are looking elsewhere for someone at DH.
According to New York Post's George King, the Yankees are possibly in negotiations with one of their own former players.
The Post is reporting that the Yankees and Nick Johnson have been talking about a return for a one-year deal.
Johnson is a former Yankee farm-system product who came up in 2001 and became a regular player in 2002 and 2003 for the Yankees.
Johnson was traded along with Juan Rivera to the Montreal Expos in the deal for Javier Vazquez.
Since then, Johnson has had a ton of injuries and has never played a full 162-game season. He even missed the entire 2007 season due to injuries.
Last season, Johnson managed to stay somewhat healthy, playing in 133 games, hitting .291 with eight home runs and 62 RBI with the Nationals and Marlins.
There have been other teams interested in Johnson's services, such as the Mets, Giants, and Mariners. All of the teams would make sense for Johnson and he would play first base for them.
But Johnson began his career with the Yankees, and maybe the opportunity to return could intrigue the 31-year-old first basemen to switch into a DH spot.
It would be considered a major risk, especially considering Johnson can never stay healthy. The most games he has ever played in one season is 147 back in 2006 with the Nationals.
Now, if the Yankees were looking at Johnson as a backup first baseman and a pinch hitter off the bench, it might sound like a good move.
But to put Johnson in the DH spot and possibly in the No. 2 hole is a risk, considering how well Damon played in the spot.
Now Johnson does get on base, with a .426 on-base percentage and drawing 99 walks, which is something he learned in the Yankees system of wearing down pitchers. But his health is the key.
If he were a healthy player who hit 20 home runs and drove in 90-100 RBI every season while playing 150-plus games, I'd be all for this deal.
But Johnson doesn't play that many games. He gets hurt at least once every season. And his power numbers aren't like that. His best season again was 2006, with 23 home runs and 77 RBI.
Now in the Yankees lineup, it could go up, but like I said, it's a very risky situation the Yankees would be taking.
Also, if they did bring back Johnson, it would almost certainly end the tenure of Damon with the Yankees, especially if Damon doesn't back off his contract demands.
Or could these talks with Johnson be used to drive Damon's demands down?
Stay tuned.
Read more New York Yankees news on BleacherReport.com