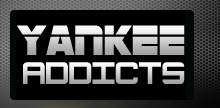 April 7, 2013 · Colin Tansits · Jump to comments
Article Source: Bleacher Report - New York Yankees
With a full week of baseball under their belts, the New York Yankees have gotten off to a slow start.
The weaknesses are already evident in the New York lineup that is marred with old age and injuries. Even the rotation saw a scare this week when Hiroki Kuroda took a line drive off a finger on his throwing hand.
Although it's early, one thing is becoming clearer than it has been since the mid-1990s: The Yankees need to get younger, talented players.
As we see players like Mike Trout, Bryce Harper and Steven Strasburg all making big impacts under the age of 25, you can't help but wonder where New York's future stars are.
Well the answer is that they are stuck in a minor league system that has struggled to produce top talent since Robinson Cano came through.
But how the Yankees are mismanaging their young players and farm system is an entirely different can of worms. Right now, let's just check out how the top talent in New York's farm system is doing after Week 1 of 2013.